London Welsh not eligible for Premiership promotion
Last updated on .From the section Rugby Union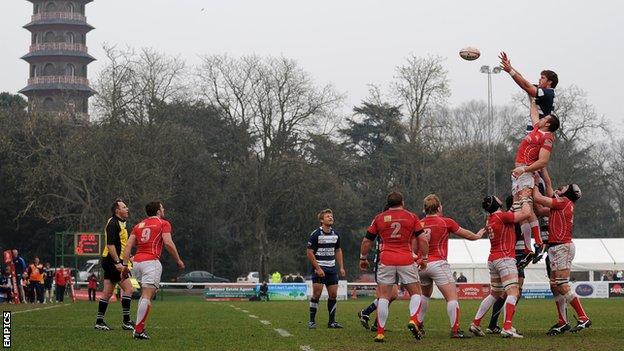 The Rugby Football Union has deemed that London Welsh will not be eligible for promotion to the Premiership.
A report said the Exiles had not achieved the minimum standards criteria for entry into the top flight.
An RFU statement said: "The independent auditors identified various failures, including not having primacy of tenure at their nominated ground."
Welsh have the right to appeal but the decision effectively safeguards Newcastle's Premiership status.
The Richmond-based outfit expressed "grave disappointment" in a statement and confirmed they will be "exploring all possible avenues" to gain promotion if they win their two-legged Championship final.
For now, it appears that Newcastle's new director of rugby Dean Richards will take over a Premiership club, three years after the so-called 'bloodgate' scandal.
Although Falcons finished bottom of the table this season, the other Championship finalists Cornish Pirates did not apply to join the top flight.
A Newcastle statement read: "The club would like to take this opportunity to thank fans across the region for their continued support as the Falcons embark on an exciting new era under the stewardship of incoming director of rugby Dean Richards."
And commercial director Duncan Edward went on to say: "To be given the lifeline of playing in the Aviva Premiership next season and keeping top-class rugby in the region is unbelievable."
London Welsh were forced to look for alternate venues with a capacity over 10,000 because their home ground, Old Deer Park, is too small under the Premiership's regulations.
The club will play the second leg of their play-off final against Cornish Pirates at Oxford United's Kassam Stadium next week and had hoped to play Premiership games at the same venue.
They insisted "a firm binding agreement, subject only to promotion, has already been concluded with Kassam Stadium". However, the audit findings highlighted the primacy of tenure issue as a key stumbling block.
An RFU statement added: "This states that a club must demonstrate that they can host home fixtures at the time stipulated by Premiership Rugby and/or the host broadcaster."
This season, four Premiership sides have played home fixtures at football grounds which they share: London Irish, Sale, Saracens and Wasps - a fact emphasised in London Welsh's response.
"The club also notes that if promoted it would share its ground with a club from the FA, in common with other Premiership clubs," a statement read.
"It is not clear why an exception made in the case of at least four top-flight clubs might not now be extended to a fifth."