London Welsh to consider legal action to gain Premiership status
Last updated on .From the section Rugby Union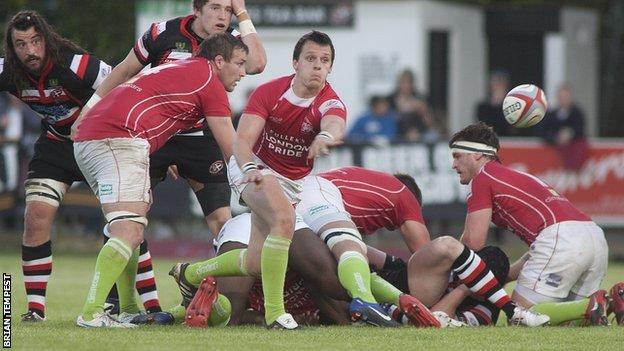 The chairman of London Welsh says they are considering taking legal action to allow them to play in the Premiership.
Bleddyn Phillips told BBC London 94.9: "We're exploring all possibilities.
"That could mean an appeal through the RFU procedures, but not exclusively through the RFU procedures. We wouldn't want to constrain ourselves."
The Richmond-based club have the upper hand in the Championship play-off final, having beaten Cornish Pirates 37-21 in the first leg on Wednesday. However, unless they win an appeal, Newcastle will remain in the Premiership and no team will win promotion regardless of the result in the second leg.
The Pirates have not applied for promotion as their plans for a new stadium have been delayed.
With their home ground Old Deer Park unsuitable to host Premiership matches, Welsh had submitted their plans for a ground-share with Oxford United to an independent audit.
Phillips, a lawyer by trade, says the club have a legally-binding agreement to play in the 12,500-capacity Kassam Stadium.
He said: "In the event we do win the Championship we will do what we can to make sure we take our place in the top rung of English rugby.
"We'll give it all we can both off the pitch and on the pitch.
"We have to await the detailed finding from the RFU. I'm surprised and disappointed because the Kassam Stadium is a top-notch venue.
"There's no questioning the quality of the stadium as otherwise we would not have signed the agreement.
"I'm at a slight quandary as to why that may not have satisfied the technical criteria, which is why I'm awaiting the details with interest."
An RFU statement said that not having primacy of tenure at their chosen ground was one of "various failures" in Welsh's promotion bid.
However Phillips believes that the precedent set by other sides in the Premiership should not preclude them from entry should they win the Championship play-off final.
He said: "It is ground-sharing with a football club, but so is London Irish with Reading, Wasps with Wycombe Wanderers; so are Saracens and Sale.
"If you have four of the top 12 clubs ground-sharing with football clubs, why not a fifth? That also raises certain questions."