Gareth Thomas: Wales deserve an 'invincible' air
Last updated on .From the section Rugby Union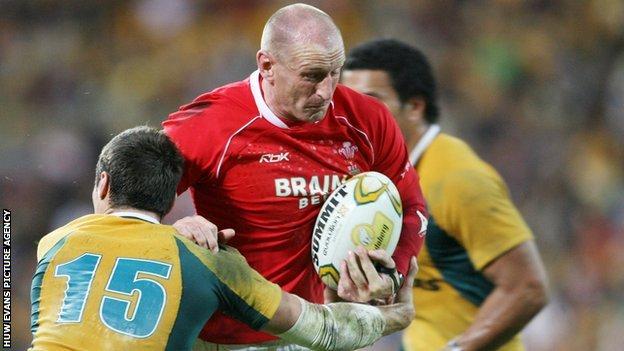 Former Wales captain Gareth Thomas says the class of 2012 have earned the right to feel invincible ahead of a three-Test series in Australia.
But he says Wales can only cap recent successes by beating a major power.
Wales finished fourth at the 2011 World Cup and then swept all before them as they won the 2012 Six Nations.
"Having the feeling of invincibility is deserved because they've beaten everyone in their path by winning the Grand Slam," Thomas said.
"So you know what? I don't think you can knock the boys for being like that.
"But when you talk to them or when you're around them they're actually an honest, decent bunch of people.
"So I don't think in any way they'll be arrogant about it."
Thomas, the first 100-cap Welshman, captained the defeated 2005 British and Irish Lions in New Zealand after Brian O'Driscoll's tour ended with a shoulder injury in the opening Test.
The following year he became the last Welshman to lead a tour to Australia where the team coached by Gareth Jenkins lost 2-0 in the Test series, continuing a winless run that stretches back to 1969.
Thomas' rugby union career ended in the disappointment of the France 2007 World Cup exit defeat by Fiji.
Since then he has played rugby league for Welsh team Crusaders and the national 13-a-side team.
But he retired in October 2011 and is now keen to see how the side coached by his former team-mate, caretaker boss Rob Howley, fare down under.
Thomas said: "I think that having an air of invincibility is a good thing.
"When you go to the southern hemisphere like England have done… and win there then you have to have a certain sense of belief about you.
"And I think everybody now is excited about what the next chapter of Welsh rugby is.
"Having done the Grand Slam I think the only way of bettering that is by going to a place like Australia or one of the other big three - South Africa or New Zealand - and being victorious.
"I think that's the only way, now, the ball can keep rolling.
"So I think everyone will be watching eagerly and anticipating what will happen this summer for the boys.
"Because if they truly want to live up to the mantle of being a great team, which they pretty much are, then I think this is one hurdle, probably the final hurdle for them to overcome.
"Everyone's waiting with bated breath to see if we can overcome the one hurdle that has seemed to have always been our downfall.
"We've won Grand Slams or done well in the past, but then never been able to back it up by going to the southern hemisphere and being successful.
"And I think people believe in this team, believe in Sam [Warburton] as the captain and so many other players there and I'd love to see them carrying on this mentality."
Wales face the Barbarians in Cardiff on 2 June with a largely second-string line-up expected to face the invitation club.
A 15-strong party will head to Australia prior to the clash against the invitation club, who will field their own Welsh players in Shane Williams and Duncan Jones.
Four players will be cut from the rest of Wales' 38-man squad for duty down under after the Barbarians clash.