Jersey chairman Bill Dempsey defends Championship price rises
By Brent Pilnick
BBC Sport
Last updated on .From the section Rugby Union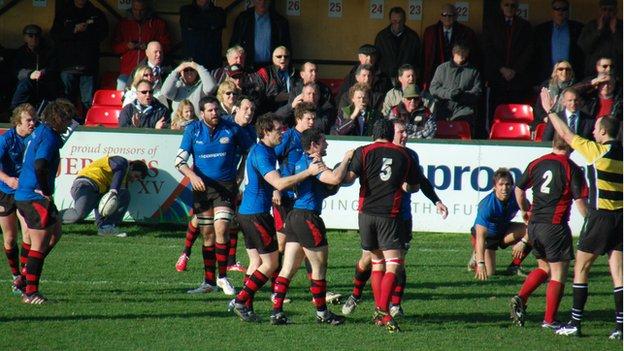 Jersey chairman Bill Dempsey has defended the club's decision to increase ticket prices by up to 50% for their first season in the Championship.
Match-day prices at St Peter are rising from £10 to £15, although the club will sell season tickets for the first time.
"There are extra costs to us for travelling as we won't get RFU funding on travel," Dempsey told BBC Sport.
"We're spending £150,000 to improve facilities, so we're putting everything into the equation."
The club have started work on a new terrace behind the eastern end of the ground as well as new bar and catering facilities.
Jersey will get their share of central Rugby Football Union funding, which is likely to be more than £300,000, for playing in the Championship.
But Dempsey says that as the side rise to the second-highest tier of English rugby, so their costs go up as well.
"We will get the RFU money, but we will have to take in extra players and they'll be looking for more money.
"There's a lot of extra costs in what we do on match days," he added.
The club will not receive all of the £15 on a non-member ticket price - or the £10 for a member's ticket - as Jersey's Goods and Services tax, currently at 5%, is included in the price.
And Dempsey says the club has already had a number of enquiries from groups of Championship club supporters looking to make their first trip to the island's rugby club.
"A lot of people want to buy tickets in advance. There's one group of 95 coming over from the Cornish Pirates when we play them.
"A lot won't come over without tickets, so if you're looking to do individual match-day tickets, people want season tickets as well so they don't have to queue up."
Jersey will compete in the Championship for the first time in their history next season and Dempsey says he does not expect the club to be as successful as they have been over the past few seasons.
The island side has been promoted in their past three successive campaigns, from London One to the Championship, after winning national One last month.
"I'd be disappointed if we weren't going to compete in the Championship.
"I can't see us winning every game like we did in the past few seasons, but I think we'll be competitive, but we'll only know how competitive as we go along."