Guernsey's Luke Jones signed by Leicester Tigers
Last updated on .From the section Rugby Union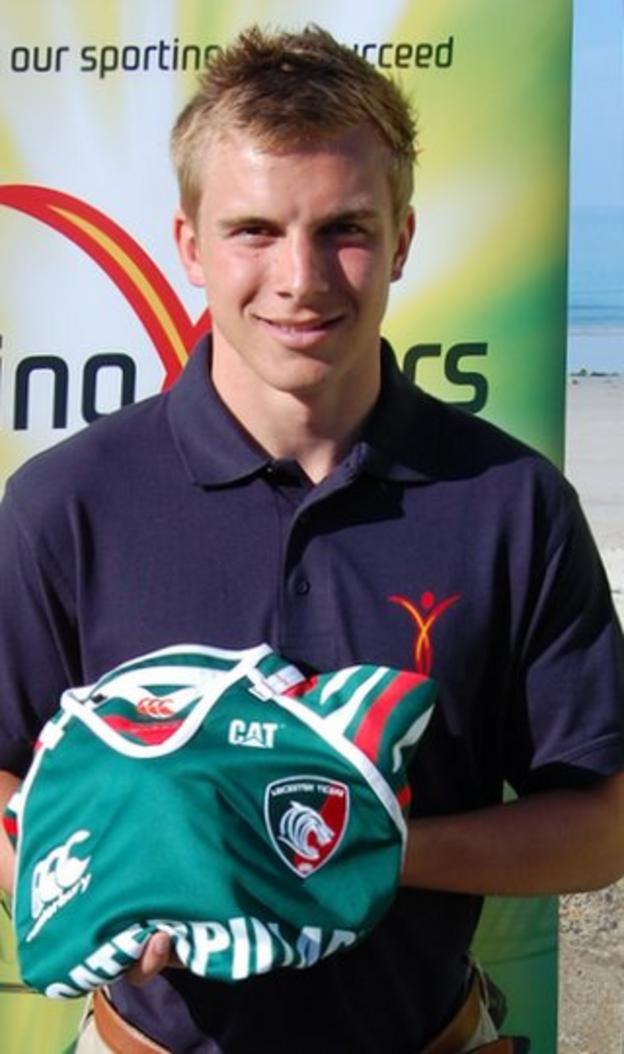 Guernsey's Luke Jones has been signed by the Leicester Tigers academy.
The 19-year-old became the first Channel Islander to earn an England Under-18's cap in April when he scored a try against Ireland Under-18's on his debut for the side.
"I'm over the moon, it's all a bit surreal, but I'm really happy," Jones told BBC Guernsey.
He said: "I've been there two times and played a game for them, but didn't expect it to become real and happen."
Jones said: "I've been playing senior rugby [for Guernsey] for the past two seasons, which has really helped step up my game."
He said his ambition was to be "a professional player, playing for England hopefully, that's the main goal".
Peter Tom, chairman of Leicester Tigers and Guernsey resident, said: "I was in a very happy position being able to surprise Luke... it'll be an amazing experience for him."
He said: "We have always placed great emphasis on growing our own players through our academy and we're delighted to offer Luke the opportunity to join us.
"We believe he will have a great future with the club and we look forward to welcoming him to Welford Road."
Tom added: "We'll hopefully get him the chance to play with Nottingham, who we have an arrangement [with]... so as Jersey are in the same division as Nottingham Luke might face Jersey, which would be quite interesting.
"Both islands have fantastic facilities and punch way above their weight and produce [the likes of] Matt Bannerman, who's playing for Bath and England, Andy Priaulx, Heather Watson and a whole host of people."
Jones, who has been a member of the Guernsey Rugby Club's academy since the age of seven, has also named as one of the Guernsey Sports Commission's rising stars.
The initiative involves offering guidance and funding to help island sport stars to fulfil their potential.