Cornish Pirates claim RFU hoped for Bristol promotion
Last updated on .From the section Rugby Union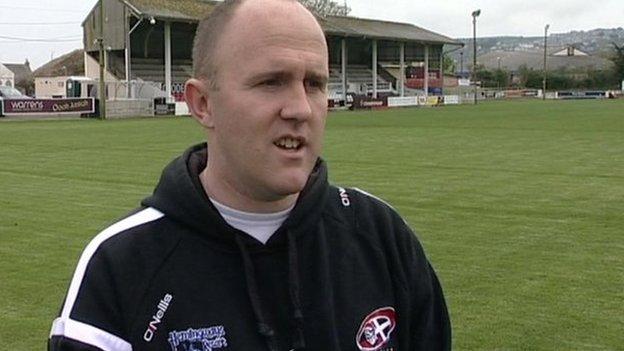 Cornish Pirates boss Ian Davies claims the Rugby Football Union hoped Bristol would win promotion to the Premiership.
The RFU are after rejecting their plan to move to Oxford's Kassam Stadium.
Pirates beat Bristol, whose ground does conform to Premiership standards, in the Championship semi-finals.
"The RFU were quietly hoping Bristol made the final and win it so they wouldn't have these ramifications," Davies told BBC Radio Cornwall.
"But that didn't happen because we spoilt the party, so hopefully we can be the RFU's friends on Wednesday night by beating London Welsh."
Welsh going into the second leg of the final on Wednesday.
The Exiles were only told of the RFU's decision not to approve their bid to play at the Kassam hours before the first leg of the final last week.
They are now appealing against the decision in the hope that, if they can hang onto their 16-point lead over the second leg, they will win the Championship and have a case for being promoted.
As it stands, even if Welsh do clinch the title, Newcastle will keep their place in the Premiership.
And Davies says the RFU's decision to announce that Welsh would not be allowed into the top flight on the same day as the first leg of the play-offs was badly timed.
"The RFU gave London Welsh massive motivation going into the game, we could have done without that," he continued.
"They could have waited 24 hours but obviously London Welsh came out with a determination to prove a point and they caught us on the hop."