Jeremy Guscott Q&A

By Jeremy Guscott
Rugby union analyst, BBC Sport
Last updated on .From the section Rugby Union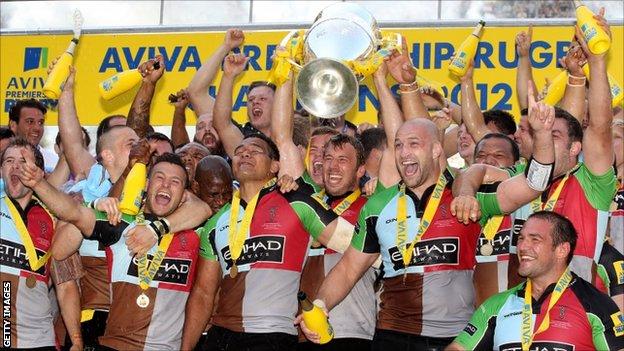 Among the topics the former England and Lions centre discusses this week are:
- Whether Harlequins can repeat their success next season
- The home nations' chances on the June tours
- If Ospreys can challenge for more titles next season
Jerry will answer as many of your questions as possible each week but not every question submitted can be used. This week's answers appear below.
With a first Premiership title under their belt, do you believe Harlequins can take this further and win Heineken Cups along with further Premiership titles and create a dynasty, especially with the talent from the Quins academy on display this season with Chris Robshaw leading the way? Darren Spraggs, UK
Hi Darren, please don't get carried away - remember they lost to Connacht in the pool stages of the Heineken Cup this year. It was a very important win on Saturday because it's the first bit of serious domestic silverware Quins have won in the professional era. They certainly have the makings of a team that could be competing for the same honours next season and winning the Premiership will give them confidence and the need for more success.
For an English club to compete on domestic and European fronts with the pressure to finish in the top six of the league (to qualify for the Heineken Cup), and beat the best in Europe is asking too much. Quins played without the fear of losing against Tigers. I believe that was the difference, it was great to watch them play.
How do you think the home nations will fare on their upcoming June tours? Cora Jones, Tokyo Japan
Hi Cora, traditionally the northern hemisphere don't have great records against the southern hemisphere teams so it's going to be incredibly hard for England, Wales, Ireland and Scotland. Scotland will struggle against Australia but will expect to win their games against Fiji and Samoa. If England can win one game against South Africa then I would say they've done well; most neutrals will be expecting them to lose all three.
Ireland will also be expected to lose all three Tests against the All Blacks but if this Irish team can find the combined spirit of Leinster, Munster and Ulster, they have a brilliant chance of winning one as well. The trouble with going to New Zealand is that most teams are beaten before they arrive.
Ireland have to believe they can win - if they don't, they will get hammered. Usually teams go there, put up a good show in the first Test but then fall away in the others. It would be refreshing and a very positive step for Ireland if they could buck that trend.
Wales have the best chance of winning a series - like Scotland they face Australia; the bookies would say no, but the talent in the Welsh side says they have a great opportunity. Wales must win the first game to win the series; it would be to difficult to come from one down.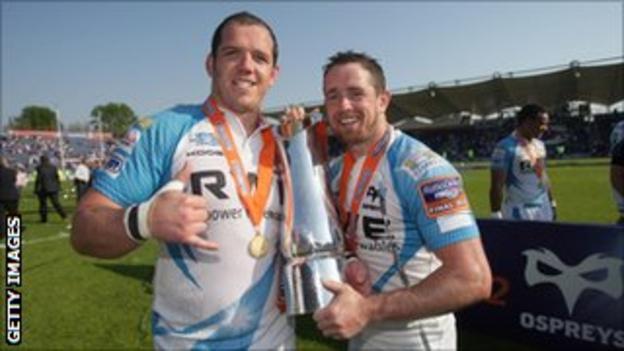 After seeing the Ospreys' top-class victory to beat a very good Leinster side on their own patch for the second time in three years to become the most successful side in the Celtic/Magners/Rabo Pro 12, do you think they have shrugged off their unwanted "Galactico" tag and are playing like a proper team who have pride in their jersey?
Can you see them pushing on next year and really start to make an impression in the Heineken Cup? Matthew, Cwmparc, South Wales
Hi Matthew, massive congratulations to Ospreys, I thought that was a nigh-on impossible task going to the RDS and winning, great result. But the same applies to Ospreys as Quins - don't get carried away. The target for Ospreys has to be success in the Heineken Cup and that's not happening.
Certainly if the team can recapture the style and attitude that helped them win against Leinster, then it should be in their sights. Ospreys aren't helped with the disruption of their internationals leaving in November, February and March and then expected to come straight back into the team and perform, but they have to look at the Irish teams - they manage it!
Whilst I enjoyed the Premiership final and noticed with interest the number of young English players on view, I couldn't help but feel that the standard was somewhat below that of the Heineken Cup final.
The English salary cap has clearly affected our clubs in Europe, but how do you think that ultimately affects England? Does this make the step up to Test rugby too big and leave England destined to be also-rans in the world game? Joe Bartlett, England
Hi Joe, I thought the Premiership final was very good. Quins in that kind of form would have given Leinster or Ulster a good game (I'm not saying they would win, but I thought Quins performed very well).
I have mentioned a lot this season about how the salary cap, along with other things, is not helping the national team. I don't believe the salary cap is as important as developing more of our youngsters; in fact a rise in the salary cap would more than likely prevent young English talent to develop.
With the current system in place, English rugby will be reliant on a number of world-class players being around at the same time. It will be interesting watching the backs on show in the Premiership final playing for England, particularly the Saracens guys, playing in a style like Quins, but they're not used to it. There is a lot of work for the England coaches to do, even if they made a good start in the win over the Baa-Baas.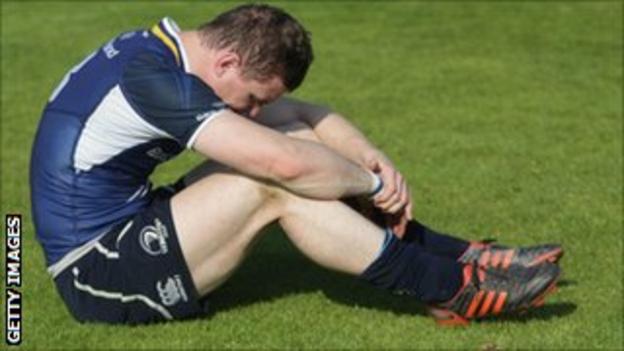 With Leinster losing to the Ospreys in the Celtic League final for the second time in as many attempts, why can't they seem to translate their terrific European knock-out game to the domestic games? Jack, Wales
Hi Jack, I believe you're being a bit harsh on Leinster given their lead-up to the Pro12 final. They had three hard-core, full-blooded games in a row and the last was too much even for a squad like theirs, but they still could have won it. Ospreys never gave up; at 30-21 down after 63 minutes, most people would have given the title to Leinster. Don't forget there are some classy players in the Ospreys side and when they fire, they could beat a lot of teams. And of course there's Shane Williams!!
As a Wales fan, I was delighted to see the success the Ospreys have had in the Pro12 this year. Do you think that the other Welsh regions can emulate this success or are the Ospreys simply far stronger than their neighbours in terms of squad and playing style? Matt Powell, England
Hi Matt, the regions seem to be going through a bit of a morale dip, except Ospreys, but they had theirs in the period when James Hook, Lee Byrne and Mike Phillips all departed. This is due to the salary cap coming in for next season and some players leaving for more money. Ospreys have shown the way with getting your house in order.
In my opinion Cardiff Blues have to do that as well, get everyone playing for one another. Scarlets certainly have some seriously talented backs, but need strength up front to compete in Europe. Dragons are always going to struggle a bit until they produce better players or find a reason why better players should join them.
We saw a great attacking performance from England at the weekend and it was pleasing to see Christian Wade and Jonathan Joseph scoring three tries between them. Do you think they may be pushing for starting spots in South Africa and do you think the solution to England's problems with creativity in midfield would be solved with Tuilagi at 12 and Joseph at 13? Feargus Welsh, England
Hi Feargus, England's performance was OK given the opposition and England having so many players unavailable because of the Premiership final the day before. Well done to the 'newbies' Joseph and Wade; both looked sharp against a lacklustre BaaBaas. I would like to see them both get a fair crack at pushing for Test places but it's not easy. Stuart Lancaster appears to me to be a bit formulaic and has set ideas and plans.
For instance, if Manu Tuilagi gets banned, Lancaster would probably go for a Charlie Hodgson, Owen Farrell and Brad Barritt midfield rather than putting in Joseph, who's more of a threat than either Farrell or Barritt. For the time being it looks as though he's happy with Tuilagi and Barritt, Chris Ashton and David Strettle. The newbies will have to show in midweek games that they can handle this level and only then can they step into their respective positions.
Why not also follow Jerry on Twitter?