Shane Williams: The small matter of a long goodbye
By Richard Williams
BBC Wales Sport
Last updated on .From the section Rugby Union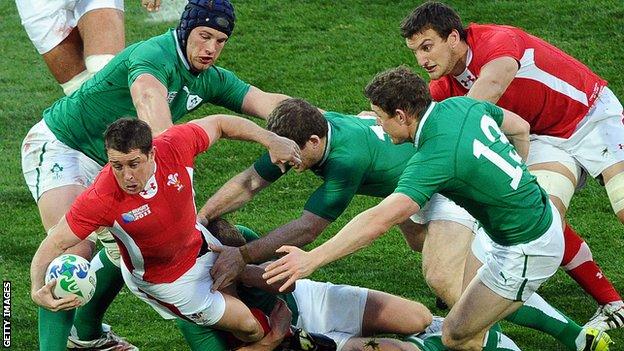 So now, the end is near, so Shane faces his final curtain... finally!
He will wave to the adoring Millennium Stadium crowd, not this time in the red of Wales but in the famous black and white of the Barbarians.
He will perhaps even shed a tear - if he has any left after the floods that flowed before, during and after his international farewell against Australia last December - and then he will march off down the tunnel and claim his rightful place in the history books.
At this point it is difficult to say if we will ever see his like again.
In a sport whose evolution has been characterised by the steady march of sport science and improved nutrition, bigger bodies and better defences, Shane Williams was a throwback to a different time.
A small man in a big man's game, whose talent and tenacity helped him overcome coaching prejudice, fans' disbelief and the best organised defences in the world.
Modern rugby is all about systems and structures. Rows of men with laptops work out patterns of running and kicking strategies.
You see them in the stands in big matches, glued not to the action but to their 15-inch screens and spreadsheets, sending two rows of big men into head-on collisions - the ceaseless butting of rutting bucks.
The game's most valued players are destroyers, not creators. Flankers and props who play like flankers. They tackle and grapple and generally make a nuisance of themselves. Nipping creativity in the bud and snuffing out attacks before they can get started.
To counter this, teams have grown bigger and stronger. They run hard in straight lines and protect the ball as if it were a holy relic, precious and irreplaceable.
This is progress. It works. Can anyone put their hand on their heart and say they have ever seen a better prepared, more physically imposing Welsh team than the one that won the Grand Slam this year?
So it is in the face of these trends that we have to judge Shane Williams.
Five foot eight and 11 stone soaking wet when he made his debut for Wales, it was that lack of stature and physical strength that made many doubt his potential. The Wales coaching team at the time were not convinced until that memorable night in Sydney in 2003 when he led the All Blacks a merry dance and a world star was born.
In the intervening years, Shane - because in Wales we call our heroes by the first names - has shown that rugby is a sport where flair and instinct and what purists like to call footballing ability can be married to power.
If you can play you can prosper. And boy, can Shane play. No duffer scores 60 tries in internationals for Wales and the Lions.
The body shape has changed, indicating the steel and determination which underpins the flair, and Shane has always had the unexpected physical strength of a gymnast.
He worked hard on his physique - but he will be remembered for his natural gifts.
The swerves and sidesteps, the unexpected and should-be-impossible changes in direction and pace. The flypaper hands and the instinct to be in the right place at the right time. The eye for a gap to run through or to pop a pass for a team-mate to run through.
Gerald Davies, the Welsh great to whom Shane is most frequently compared, once said memorably that in rugby the sidestep is the small man's revenge.
Shane Williams is rugby's revenge.
And he has done it his way.