England braced for Springboks battle
Last updated on .From the section Rugby Union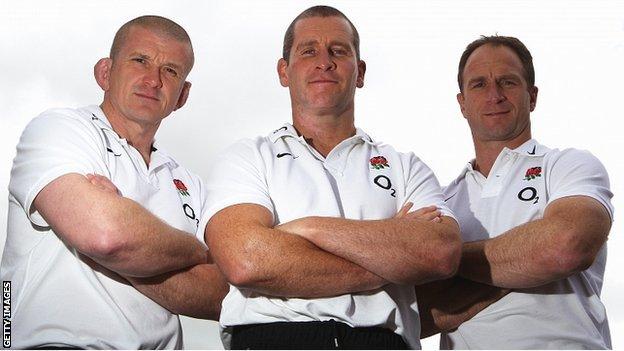 England arrived in South Africa on Thursday for a five-match, three-Test tour that promises to test Stuart Lancaster's lovingly restored side to its limit.
While Lancaster has had the luxury of a two-week training camp, South Africa's new coach Heyneke Meyer will have only five days with his players, who are involved in Super 15 derbies - Bulls v Stormers, and Lions v Sharks - on Saturday, before the first Test.
In addition, the Springboks are in flux: Victor Matfield and John Smit have retired, Schalk Burger and Juan Smith are injured, while Meyer may send an SOS to scrum-half Fourie du Preez, now playing in Japan.
BBC Sport canvassed the thoughts of former England players and coaches, and an ex-South Africa captain, as England seek a first series win in South Africa, where they last won a Test in 2000.
HOW INTENSE WILL THE SOUTH AFRICA EXPERIENCE BE?
England assistant coach Mike Catt: "You can't prepare for it, you have to feel it. [South African-born England centre] Brad Barritt did a presentation in connection with what to expect from the country and the people. But when it comes to on the pitch, it is fierce, it is brutal.
"In 2000 we played the first Test and then couldn't train until the Thursday because we were so physically battered by it. These guys are going to be mentally tough and I think the environment we have created is going to put us in good stead."
WHAT SHOULD ENGLAND EXPECT FROM SOUTH AFRICA?
Former England defence coach Mike Ford: "If you look at what [new Springboks coach] Heyneke Meyer's teams do, they are going to have a big, monstrous pack, will kick the ball and will have a big, monstrous kick chase. It's not rocket science.
"I said to [England forwards coach] Graham Rowntree: 'You won't need to do much analysis.' You know what is coming but it is very hard to stop."
Former England coach Brian Ashton: "Traditionally Meyer has been a coach who demands the basics: get the set-piece and defence right, kick for field position.
"But he has developed as a coach and probably has a broader idea of how the game can be played now. Also, the players South Africa are now producing in the wider channels carry a real threat.
"However, Meyer will only have a few days with the team before the first Test so they might go back to that more one-dimensional style to make sure they win that match."
DOES THIS MEAN THE FIRST TEST IS A MUST-WIN AFFAIR?
Former England lock Ben Kay: "South Africa won't have had much time to prepare and if England catch them cold in the first Test, then suddenly the dynamic of the whole tour changes, and the pressure goes onto the Boks."
Former South Africa captain John Smit: "Sadly they're taking England to Durban first, which will be the most comfortable venue of the series. I would have liked them to be taken to the dark corners of South Africa for the first week or two.
"Durban is at sea level so the England players won't feel the burn in the back of the throats and the taste of blood after 20 minutes. They will feel that in Johannesburg the following week.
"England need to be ambitious [in the first Test] because South Africa will only get better and better with each game they play under their new coach."
WHAT TACTICS SHOULD ENGLAND EMPLOY?
Catt: "Stuart is very open-minded in how he wants the game to be played. If you look at the personnel, there are a lot of young guns who have expressed themselves very well in the Premiership. Hopefully they can put that onto the park at international level.
"Brad Barritt and Manu Tuilagi are big, ball-carrying centres but they are able to distribute well too.
"The forwards have been good at getting the ball back, it's a case of making the most of it, keeping defences guessing all the time. Everyone pretty much does the same moves as everyone else in international rugby. It is about the accuracy and execution of it."
Ashton: "There was a very slow but noticeable progress in the way they played in the last few games of the Six Nations.
"But especially with ball in hand, they need more of a cutting edge. They are going to have to go up two or three gears to trouble South Africa."
Former England wing Mark Cueto: "They've got to look at the way they approached the France game in Paris, where they played the basics really well, played for field position and put France under pressure.
"They also added a little bit more to their game, tried to play a little bit more and it resulted in an unbelievable win, which I don't think anyone expected. They'll take a huge amount of confidence for that.
"Chris Ashton, David Strettle, Ugo Monye are all pretty experienced wingers now but the biggest problem England have got, as always, is getting ball to these guys."
Kay: "England have got to challenge them physically up front early on, but make sure they don't get caught in an arm-wrestle: they need to play that power game on the front foot. Do that and they can have some success.
"If they just try to run Manu Tuilagi down the middle of the field, the Springboks have got some big boys who can cope with that."
ANY RESERVATIONS ABOUT THE ENGLAND SET-UP?
Ashton: "England have not played together for long enough to say there is a definite spine at eight, nine and 10, but it is developing.
"At the moment Danny Care is the best number nine in the Premiership but that doesn't mean he'll be first choice. It might depend who plays at 10, but he is certainly right back in the running.
"I'm not quite sure who's going to play at 10. If Toby Flood is fit I'd probably play him, but I imagine they will go with Owen Farrell."
Ford: "I am quite excited about Mike Catt joining the set-up but it is going to be tough for him [Catt is attack and defence coach]. Defence is a specialist field and you need to concentrate on it full-time."
Kay: "Even if everything coming from a coach is brilliant, it is coming from the same voice. When you have a specialist coach, it flicks a switch in your brain and you focus on whatever it is. I would not want to go on tour without a specialist defence coach."
WHAT WOULD BE A SUCCESSFUL TOUR FOR ENGLAND?
Kay: " I think one victory in the Tests and one in the midweek games would be a pretty good return."
Catt: "There is nothing better than beating them. We lost the first Test in 2000, which we should have won, and then won the second Test in Bloemfontein, the heartland of South African rugby.
"That tour was a massive stepping stone to the success we had at the 2003 World Cup, a massive confidence boost for us. We now need to take it to another level and build up to the 2015 World Cup."