London Welsh captain angered by 'prawn sandwich' RFU after ruling
Last updated on .From the section Rugby Union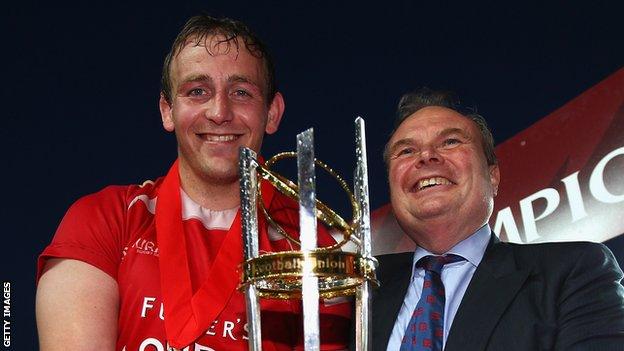 London Welsh captain Jonathan Mills has criticised the Rugby Football Union's ruling that they are not eligible for promotion to the Premiership.
"It's a sad fact when rugby comes down to what people eating prawn sandwiches are saying," he told BBC London 94.9.
"We've shown what we can do. To be stopped going up would be a disgrace."
Welsh secured the title with a 66-41 aggregate victory over Cornish Pirates on Wednesday but will not be promoted after an audit of their plan to join the Premiership stated they had not achieved the minimum standards criteria to go up.
The Exiles were forced to look for alternate venues with a capacity over 10,000 because their home ground, Old Deer Park, is too small under the Premiership's regulations.
The club have said they will consider all avenues, including legal action, in a bid to overturn the ruling and gain a place in the Premiership next season.
"As soon as people start making decisions off the pitch to see who's the best side in the league, it means nothing," Mills added.
"Over the two legs we showed what we could do and that we can offer something to the Premiership. It means so much to this club and we deserve the chance.
"I hope the RFU can sort out this promotion [and] relegation thing."
The Richmond-based outfit submitted a proposal to share Oxford United's Kassam Stadium next season, and staged the home leg of the Championship final at the ground.
A crowd of more than 3,400 attended the game, and Mills believes the stadium is good enough to stage top-flight matches.
"People came out to support us," the 28-year-old continued.
"If we can get in the Premiership with sides like Leicester and Northampton coming down, you'll get bigger crowds than that.
"The venue is outstanding and can compete with any other Premiership venue. I hope everything can be sorted off the pitch so we can get up."