Brian O'Driscoll's duel with Sonny Bill Williams excites Les Kiss
Last updated on .From the section Rugby Union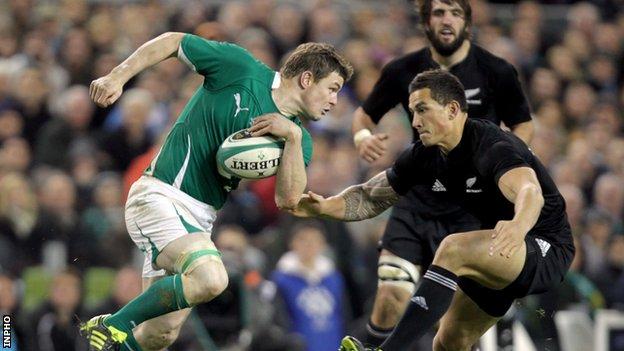 Ireland's assistant coach Les Kiss is excited by the prospect of returning captain Brian O'Driscoll taking on New Zealand's Sonny Bill Williams.
O'Driscoll is set for his international return in Saturday's first Test.
Williams has been included in the All Blacks side for the Auckland clash after displacing Ma'a Nonu.
"You're talking about one of the greatest in Brian against one of these guys [Williams] who is an absolute beast on the field," said Kiss.
O'Driscoll is back in the Ireland squad after missing the entire Six Nations because of injury while Williams has had a superb season with the Chiefs in Super Rugby.
Williams is desperate to start at Eden Park but was quick to acknowledge that lining up against O'Driscoll would be a serious challenge.
"O'Driscoll is always the danger man. Absolutely. He's done well since he came back [from injury]," said Williams.
"It's going to be a tough challenge but hopefully we can play a style of footie that is entertaining but a winning style as well.
"I'm looking forward to it, getting that black jersey back on. But the Irish are playing some good rugby, both Irish teams [Leinster and Ulster] in the Heineken Cup final."
Nonu, who has been left out of the squad for Saturday's game, was equally quick to praise 33-year-old O'Driscoll.
"O'Driscoll is going great," he said. "He always turns out. He's such a great player that I admire.
"I've been watching him for a long time and he always seems to turn up at the right time, especially for Leinster.
"The older he gets, the better he gets really."
Nonu, who has played Ireland on five occasions and scored two tries against them, believes the Irish will be desperate to end a losing sequence that means they have not succeeded in the fixture in 24 attempts.
"It is not just another game for them," he said.
"They've been trying for a long time and have come close at times. In 2006 they pushed us hard twice, and again in 2008.
"They were in the lead but then we climbed back.
"I think there are a lot of older players that are looking at it like they won't be coming back to New Zealand again."