Scotland scrum 'can be a weapon'
Last updated on .From the section Rugby Union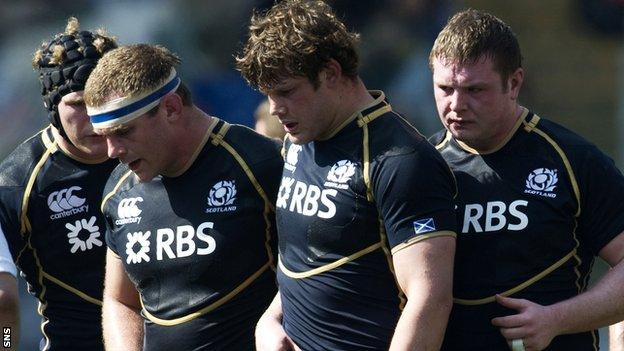 Scrum coach Massimo Cuttita believes Scotland are just starting to fulfil their potential at the set-piece.
Tuesday's 9-6 victory over Australia was built on impressive defence and powerful scrummaging.
"It's good to see that the scrum is finally doing what it should be doing and credit goes to the boys who have been working so hard," said Cuttita.
"We have the capacity to win games on the basis of our scrummaging. That is what I am working towards. "
The Italian was brought in six years ago to address problems in the scrum area and he thinks Scotland can build on their win in the Newcastle rain.
"We are just beginning to realise that we have a weapon that we can use there," he added.
"We have all got to become convinced that the scrum can become a weapon for Scotland. We were speaking about it in training and it is just a mental thing.
"We have got people coming through who can certainly do it, and don't forget we are without hardened players in the likes of Allan Jacobsen and Jim Hamilton, who are both good scrummagers.
"It was not just at the end of the game [against Australia] that we were on top. Earlier we had a chance five metres from their try line, their back row came up and we could have gone for it.
"Instead we let the ball out. We should have gone for a double shove there, we could have scored."
Prop Jon Welsh has had his tour cut short by injury, with Glasgow Warriors team-mate Moray Low taking his place, and Cuttita is excited by the strength in depth available to head coach Andy Robinson.
"It has taken years but what I am satisfied about is the number of guys coming up," he said.
"It all shows that if you do work hard, then you get the results. Look at Glasgow, who have had a really good scrummaging season.
"We have got depth now. We have three decent looseheads and the three decent tightheads and more coming up though the system. There are not many countries who can say that. These guys are working hard, they believe in what they are doing.
"They are all coming through."
Australia have had their own scrummaging issues over recent years, leaving Cuttita to call for an improved showing when they line up against a powerful Fiji side on 16 June to prove their credentials.
"We have to prove to Fiji that we can be even better than we were against Australia," continued Cuttita.
"It is not going to be easy, they have got some big units there. We have to be technically a lot better and we don't take that for granted."
Euan Murray impressed in the back three against Australia, putting in 31 tackles without missing one and fronting up the scrum.
"We have to prove ourselves on the day," said the Newcastle prop ahead of the Test with Fiji. "Now that the boys have set a standard they have to carry it on.
'The scrum is going to be essential for us to do well out there; get a good solid platform for the backs. Hopefully it will be a bit sunnier, drier and we see a bit more rugby being played."