Premiership Rugby announces possible Heineken Cup withdrawal
Last updated on .From the section Rugby Union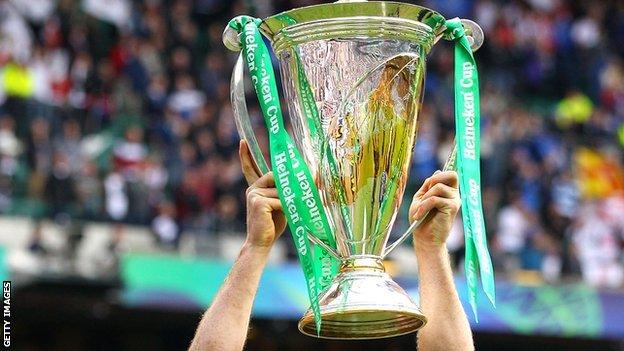 The governing body of England's top rugby union clubs has given notice of its intention to pull out of the Heineken Cup and Amlin Challenge Cup.
The move comes amid disagreements over how the competitions are organised.
French clubs have also threatened to withdraw, but as two years' notice has to be given the move is perceived as an attempt to force others to negotiate.
"We hope that there will now be an urgent dialogue," said Premiership Rugby chief executive Mark McCafferty.
In May, Leinster beat Ulster 42-14 in the Heineken Cup final to retain the trophy.
Premiership Rugby's intention to exit the competition will affect such top English sides as Northampton, Saracens, Gloucester, Bath, Harlequins, Leicester and London Irish, all of whom competed in the 2011-12 tournament.
McCafferty added that he hopes discussions can commence soon regarding "the future of European cup rugby, including qualification, competition formats and ambition to expand into new markets".
The governing body's notice period extends to the end of the 2013-14 event, at which point they say they will exit the competitions.