England's James Haskell says time overseas has made him better
Last updated on .From the section Rugby Union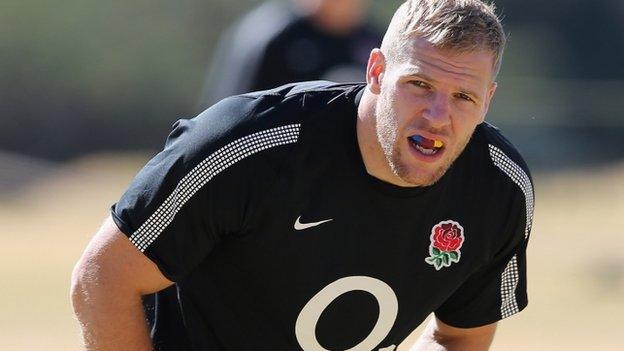 James Haskell claims he is now a better player after his experiences overseas.
The 27-year-old flanker effectively ruled himself out of this year's Six Nations by opting to play club rugby in Japan and New Zealand.
But, after rejoining London Wasps for next season, he has been called up for this month's tour of South Africa by new head coach Stuart Lancaster.
"Those little abilities like knowing when to pass and seeing those guys on you, I feel has improved," he said.
Haskell will make his first England appearance since the World Cup for the second XV in Wednesday's tour game against the South African Southern Barbarians in Kimberley.
He will be part of a completely changed side from that which lost the first of the three-match Test series in Durban on Saturday.
Haskell said: "Once you reach a certain age as a player and have been around for a while the differences are only in small percentages.
"I am not going to suddenly be able to start doing things I couldn't before. You either have an ability you work up to or you can't.
"I think my little differences are in consistency, game understanding, decision-making - some of the stuff that is not so tangible to put your finger on."
Haskell has spent the last six months playing with the Otago Highlanders in New Zealand and paved the way for a comeback on this summer's tour by returning to his first club after a three-year absence.
But he accepts he cannot walk straight back into the national side.
He said: "I am in no rush to do anything. The autumn internationals, after coming back to the Premiership, are probably the long-term goal.
"Here, it is just to make sure I come in, live up to Stuart's expectations and fit in. I have 42 caps but I am right at the bottom of the ladder here."