Heineken Cup: Welsh rugby chief Roger Lewis wants positive talks
Last updated on .From the section Rugby Union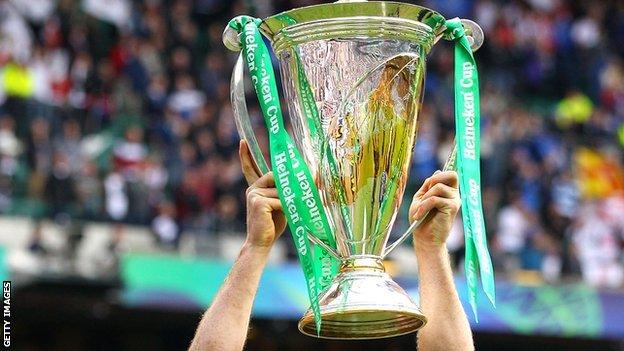 The European Rugby board will meet in September to discuss the Heineken Cup's future, Welsh Rugby Union group chief executive Roger Lewis has revealed.
Two years' notice has to be given to leave the European competition.
"It is a competition, after the Six Nations, [which] is probably the envy of the rugby world," said Lewis.
"It's been some five years since we last debated the structure of the competition, so I think the time is right for us all to get round the table to look to the next five years.
"What I would emphasise is that we have got time on our side to look at this.
"I hope everyone comes to the table looking at the bigger picture and the bigger picture is something that is very precious indeed."
The governing body of England's top rugby union clubs has given notice of its intention to pull out of the Heineken and Amlin Challenge Cup amid disagreements over how the competitions are organised.
Toulouse have won the Heineken Cup a record four times but French clubs have also threatened to withdraw.
England failed to have a representative in the last four of last year's Heineken Cup while the French had just one team as the Celtic nations dominated Europe's premier cup competition, which was eventually won for a second successive year by Leinster.
In fact, an Irish side has won five of the last seven Heineken Cup finals and Lewis, who represents a country that has never celebrated a Heineken Cup winner, has pledged constructive negotiations.
"Yes, [we will be] very open and robust in our discussions, but the mood round the table is to try and get this right and fix it," insisted the Welsh rugby chief.
"As a director of the competition I'd emphasise we have got to act at all times in the best interests of the competition.
"That said, with my Welsh hat on, I'd certainly emphasis that Wales has contributed significantly to the competition and particularly to northern hemisphere. We are the Grand Slam champions after all.
"Celtic rugby has contributed considerably to the competition. That said we shouldn't be afraid of debate; we shouldn't be afraid of sitting round the table and deciding what's best for the competition as a whole.
"And we have decided as a board of directors of the competition to meet in September.
"At present we have not received any formal views from any of the countries involved so no one has formally put forward a position.
"I hope everyone who comes around the table comes to it with the right degree of responsibility, because we have to act in the best interests of the whole competition not for our respective selfish needs."