Jersey boss wants hooker Dave Felton to learn from Steve Boden
Last updated on .From the section Rugby Union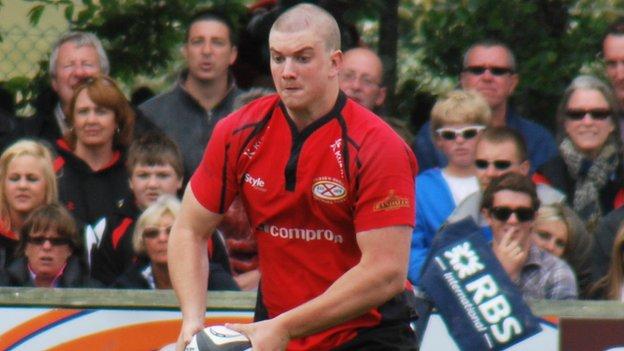 Jersey director of rugby Ben Harvey wants hooker Dave Felton to learn from new signing Steve Boden.
The 29-year-old joined Jersey this week having spent seven seasons at Doncaster and is the most experienced of Jersey's new signings with more than 150 Championship games to his name.
"He's an excellent player, he's a tough boy and he's got a great project with Dave Felton," Harvey told BBC Jersey.
Harvey wants Boden to help Felton focus on his line-out ability.
"The temptation in the line-out was that when it wasn't going well everyone pointed at Dave, that was very unfair because there are five different components to it.
"The call and the throw is his department but the lifting, the movement, the jumping, is other people's departments and we all tended to look at Dave as opposed to looking at our line-out.
"With an experienced head, someone who's technically very proficient in that area, known for his tactical expertise and known for his throwing, who can come in there and aid Dave, help with his coaching and give him lost of competition.
"Dave is one our better young players on the island and I felt he needed that sort of help."
But Harvey says Boden, who also helped coach the forwards at Doncaster will not purely be at the club as a coach.
He wants him to push Felton for the hooker's spot as Jersey prepare for their first ever season in the Championship.
"We want Steve to be the player we know he can be and we're going to need great players and he's a very good player.
"Steve's knowledge of the league is very good, he's been coaching the scrum up at Doncaster and he brings that wealth of experience and the technical parts of his game are very good.
"There'll be other parts of his game that if he's as good as Dave Felton then we'd be delighted because Dave has got a huge amount of talent, the lads that scrummage with him and against him says he's a formidable opponent."