Sir Clive Woodward warns Warren Gatland over Lions role
Last updated on .From the section Rugby Union74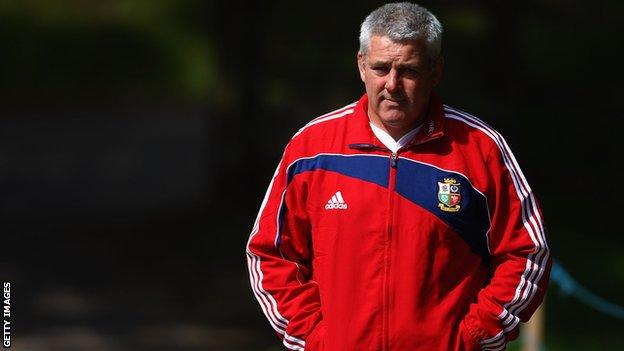 Sir Clive Woodward has warned Warren Gatland his impending appointment as British and Irish Lions coach could affect Wales' 2015 World Cup campaign.
The former 2005 Lions coach has backed Gatland's appointment to be coach for next year's tour of Australia.
But England's 2003 World Cup-winning coach believes his appointment could have repercussions for Wales.
"Whoever coaches the Lions, and I think it should be Warren, has to be really careful," said Woodward.
Gatland is the favourite to take charge of the 2013 Lions, with negotiations having already begun with the Welsh Rugby Union about a season's sabbatical from his role with Wales.
The New Zealander was part of Ian McGeechan's coaching team for the 2009 Lions that lost the Test series 2-1 to South Africa.
But Woodward, whose Lions suffered a 3-0 Test series whitewash to New Zealand in 2005, admits Gatland will find it difficult to keep all of his Welsh squad happy ahead of the 2015 World Cup in England.
"Wales have an outstanding team and, I think, they could go all the way in 2015, and you don't want anything to get in the way of that," said Woodward.
"He has to manage that process and almost has to get the Welsh team to really want him to do the Lions.
"They have to understand that stuff is going to happen on a Lions trip that can go wrong and that means your mojo isn't intact."
Graham Henry, another Kiwi who coached the Lions on the 2001 tour of Australia, tried to combine the roles of Lions and Wales coach but failed.
Henry, who coached New Zealand to a Test series victory over Woodward's Lions and won the 2011 World Cup with the All Blacks, lost the 2001 series 2-1 against the Wallabies.
But the tour is remembered for a series of players' complaints and controversial columns and diaries, with England's Matt Dawson and Austin Healy most vocal in their criticism of Henry's management style.
Certain Wales players were also disgruntled when left out of the Test side.
The fall-out continued after the tour and Henry, once lauded as "the Great Redeemer", resigned seven months later after four defeats in six games with Wales.
Woodward did not combine his duties with England and the Lions and famously resigned as England coach in September 2004, a year before the 2005 Lions tour.
Woodward, though, is adamant Gatland, who has won the Grand Slam with Wales in 2008 and 20012, is the right man for the Lions.
"I would say Warren is definitely the right man out of all the home nations candidates," said Woodward.
"He is the stand out candidate, but doing the Lions is not easy and there is no doubt it could affect your home team.
"You have to manage the Lions; you're not picking Welsh players and have to get on with players you normally go to war with.
"You are not there to be popular and you have to make the tough calls."
Listen to Sir Clive Woodward's full interview on BBC Radio Wales' Backpage show on the iplayer