Big-hitter Sean Lamont ready for Samoa challenge

By Jim Mason
BBC Scotland rugby reporter
Last updated on .From the section Rugby Union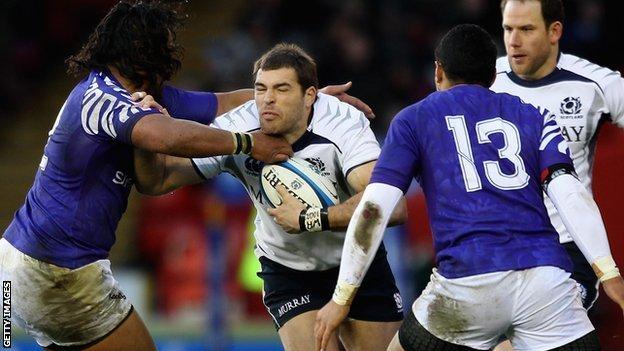 The name Samoa is writ large in the international career of Sean Lamont.
In 2004, he made his Scotland debut against Samoa when the Scots beat the Pacific islanders 38-3 in Wellington, New Zealand.
His 50th cap international was also against the Samoans, this time at Pittodrie in November 2010. Scotland won that game 19-16, Ruaridh Jackson sealing the win with a late penalty.
Now, Lamont will face them again; only this time in Apia, the capital of Samoa.
The Perth-born back has played both at centre and on the wing for his country and comes into the side in place of Max Evans.
Lamont is what is termed a "big unit" - a strong runner with a tremendous physical presence - and he has an evident passion for playing in dark blue. He knows that Saturday's encounter will be tough and that his physicality will be an asset.
"I don't think my playing style has changed much in the 10 years that I've been playing," said the 31-year-old, who is returning to Glasgow Warriors after three years with Welsh side Scarlets.
"If that's what they're wanting from me, I can do that. I'll do the graft, the hard yards.
"Outside the Six Nations, the only team I have played more often than Samoa is Australia.
"No doubt there'll be some big hits coming in. I'll take my chance."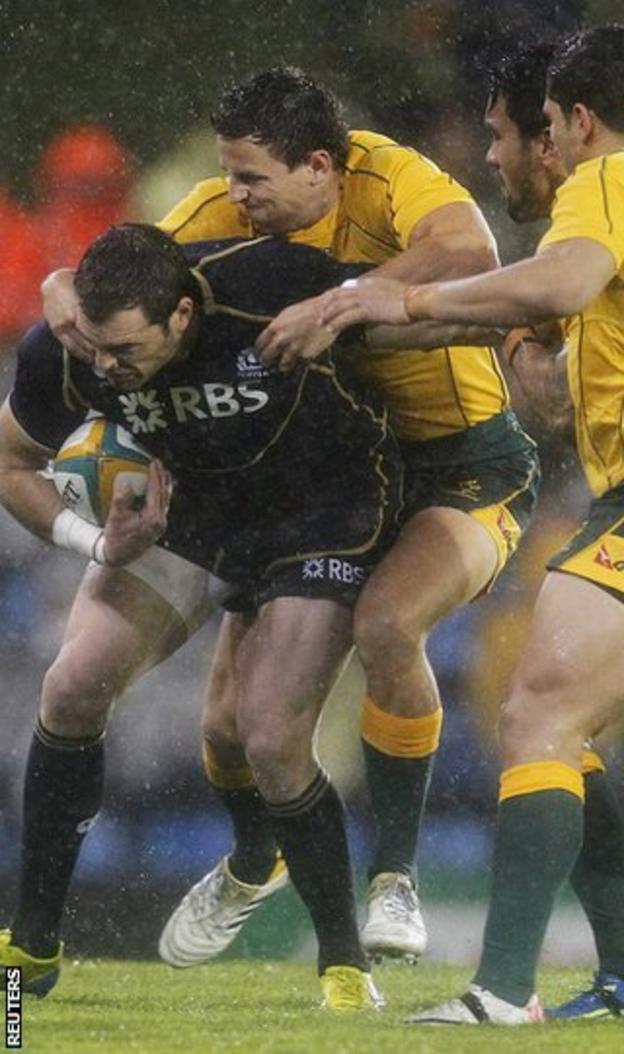 The Scots go into this game knowing that a win will mean an unbeaten tour after wins over Australia and Fiji.
It's a tantalising prospect for the team and would supply a much-needed boost to the game in Scotland, but Lamont believes that Samoa will be formidable opponents.
"We know we have a much tougher task this weekend," he said. "They're off the back of a good set of wins, I think they've got some players coming back from Europe as well. Home turf, I'm sure they'll be out for a good win.
"We've got to contend with that heat and that better control that they will have. But, if we can enforce our game, that will be the major factor.
"Obviously I have played against a few of them, but I have not seen their team yet, so I'm not exactly sure who will be there.
"Quite a few of the boys across the board are players we know from having played with them or against them. They are excellent players.
"We know a lot of their players from European rugby and in general they are simply a more structured team than the Fiji side we faced last week, whether that is a result of the time they have had together or the players they have got."
However, there is a confident air about the Scotland squad here in Samoa and a deal of satisfaction that they have won two games in vastly differing conditions.
Lamont is convinced that confidence will win through.
"Those two wins, especially the one against Australia, were a big pick-me-up," he said. "For the whole team, the mood has just lifted.
"For Scotland, every win is massive and to top it off this weekend would be ideal."