Dean Mumm happy to put Exeter Chiefs before Australia caps
By Brent Pilnick
BBC Sport
Last updated on .From the section Rugby Union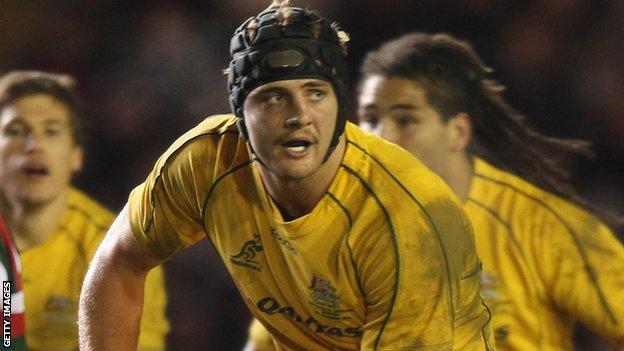 Exeter Chiefs new Australian signing Dean Mumm says he is happy to put off winning more caps for his country to play in the Premiership.
Mumm, who has won 33 caps for the Wallabies, will be ineligible for the Australia team once he moves to the UK.
But he is set to remain in Australia to be on standby for the Rugby Championship which begin in August.
"When you make the decision to come overseas that's part and parcel of it," Mumm told BBC Sport.
"I've been lucky enough to experience it and the memories I have of playing for the Wallabies are ones I'll cherish.
"But I've been playing for the Waratahs for a number of years and it's time for a new challenge and that's how I see it," added the 28-year-old.
Second row Mumm's involvement as a standby means it is likely that he will miss the start of the Premiership season as Australia's final match is not until 6 October when they travel to Argentina.
"I'm doing everything I can to get there [Exeter] as soon as possible.
"I know the boys have started training already so the more time that I'm not there the harder it will be to get in.
"It's not as much fun doing work in Australia by yourself rather than over there working with the boys."
The Chiefs finished fifth in the Premiership last season, and qualified for the Heineken Cup for the first time.
They have been
"I had a word with Rocky Elsom about what I can expect from Leinster," Mumm continued.
"It's quite a draw and I read some comments from Rob Baxter and Tom Hayes and what they've said is 100% right, they wouldn't want it any other way.
"The whole point of the Heineken Cup is testing yourselves against the best teams in Europe - and Clermont, Leinster and Scarlets are the best teams in Europe.
"The Waratahs have been around and in the action for a fair while and had to deal with some big games.
"Going to Exeter, who have done extremely well to get to where they have, the challenge exists to take the next step and be a top line team.
"I'm relishing that challenge and hopefully we can get there, with Heineken Cup being a real bonus."