Rob Harley has eye on island treasure

By Jim Mason
BBC Scotland rugby reporter
Last updated on .From the section Rugby Union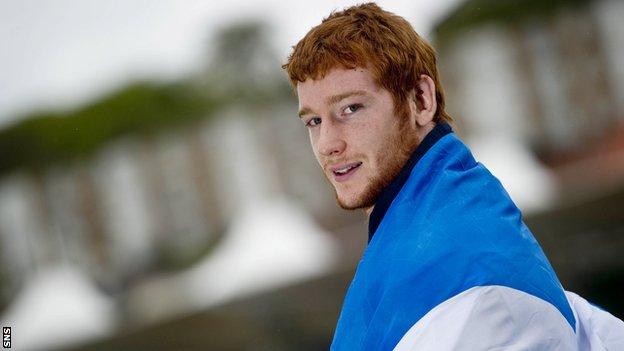 Rob Harley remains the only player in Scotland's touring party that has not been capped.
But that could change against Samoa on Saturday since the Glasgow forward has been named on the bench for the first time.
Harley, who can play in the second and third rows, has been around the squad for two seasons but missed out on World Cup selection.
As he waits for what could be the proudest moment of his career and a clash with Samoa's heavyweights, the thoughtful 22-year-old sought inspiration from a titan of literature.
Earlier this week, Harley travelled to a location in Apia which any travelling or homesick Scot should put on their must-see list.
Vailima is a large, substantial two-storey house in the hilly outskirts of Samoa's capital.
It was the final home of author Robert Louis Stevenson.
Indeed the author of Treasure Island is buried on a hill overlooking the house. His epitaph reads: "Under the wide and starry sky, Dig the grave and let me lie, Glad did I live and gladly die, And I laid me down with a will."
For Harley the visit was not only in homage to a famous Scotsman, it was a natural venue to talk about one passionate interest in his life.
His favourite book by RLS?
"It has to be Dr Jekyll and Mr Hyde," he explained. "I like the contrast of light and dark.
"Sometimes the adventure novels such as Kidnapped have long passages which seem like an exercise in killing time… But I like the complexity of Dr Jekyll."
With the players having to spend about five weeks away from their loved ones and communication with back home not always perfect, personal interests are the way to make the time pass easier.
For Harley the opportunity to dive into a book is the preferred way to have some 'me time'.
So, in an ideal world, what would be on his tour bookshelf?
"I would definitely have something by the Portuguese writer Jose Saramago. I've read Seeing and Blindness. I also enjoy reading Dostoyevsky. I like the classics; you are by their very nature assured of quality."
While the choice of Dostoyevsky and Dr Jekyll hint at an enjoyment of complication, there is nothing over-elaborate about Harley's playing style.
He is a tough, abrasive player and his presence on the pitch meant he was an ideal choice to captain Glasgow for a while last season.
"I found it challenging, you would be concentrating on your own game and then when the game is stopped having to make strategic decisions," he admitted.
"That's where the advice of senior players is invaluable."
Should Harley make his debut on Saturday it will mean that all five uncapped players who started out on the tour will go home Test players.
Ryan Grant and Tom Brown got their caps in the gutsy win over Australia while Tim Visser and Tom Ryder earned theirs against Fiji in the heat of Lautoka.
It will not be an easy baptism. Samoa have picked a strong side and head coach Andy Robinson and his side are under no illusions as to the difficult task they face.
As for Harley, he is too canny to look for inspiration for Saturday in the pages of a book. He knows that hard graft will be the key to success.