Jersey confident ground will be ready for start of the season
Last updated on .From the section Rugby Union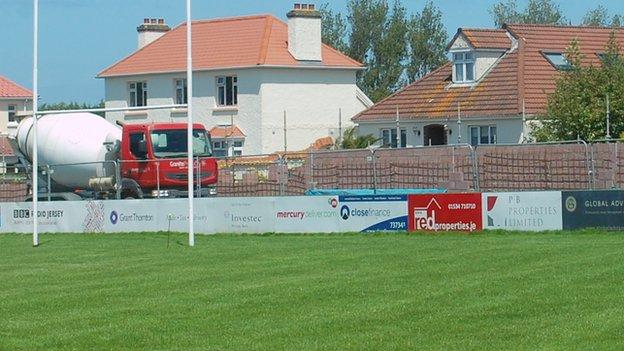 Jersey Rugby Club are confident that improvements to their St Peter ground will be ready for the start of their first season in the Championship.
The island club is building a new 1,000-capacity terrace at the eastern end of the ground and new dug-outs.
Jersey averaged crowds of over 2,000 last season, and on some occasions more than 3,000 watched matches at St Peter.
After four promotions in five years, Jersey have had to cope with a rapid rise in the number of people watching.
"It's really starting to take shape," said Jersey spokesman Tom Innes.
"The wall's there, the first concrete is going in shortly, and we're optimistic that we will be ready in August."
As part of the ground improvement works the dug-outs have been removed and a wider area created in front of the club house for fans.
New replacement benches are now being built next to the tunnel, with the substitutes and coaches to be seated on raised platforms behind the standing spectators.
"We've made a bit of extra space in front of the pavilion," Innes told BBC Radio Jersey.
"It just removes a bottle-neck and the new dug-outs will be tucked under the club house.
"The idea is to have a raised area which the substitutes and coaching staff will sit on and crowd members will stand in front of them."