Ireland captain Brian O'Driscoll embarrassed by record NZ loss
Last updated on .From the section Rugby Union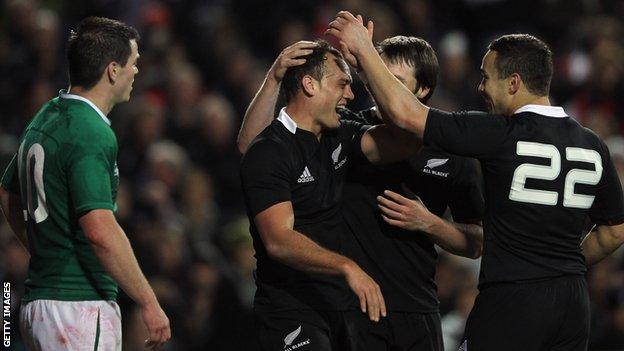 Skipper Brian O'Driscoll has described Ireland's record 60-0 defeat by New Zealand as "a bit embarrassing".
The Irish were crushed by the awesome All Blacks who ran in nine tries to complete a 3-0 series whitewash.
"We started terribly and they came at us. We just made too many errors," said O'Driscoll after the match in Hamilton.
"We had a lot of tackles to make and that scoreline tells its own story. They were clinical at the breakdown and we were terrible."
Ireland came into the match with just pride to play for, having already lost the series, but were expected to put up a tough fight following their narrow 22-19 defeat in Christchurch a week earlier.
But O'Driscoll knew they were in for a rough ride after New Zealand established a 21-0 lead after 19 minutes.
"We knew that we had to start well and we didn't and that's what the All Blacks do - when they get a 15 or 20-point lead they just play their own game and you're running after them for 80 minutes," he said.
"To be 21 points down before 20 minutes was up, we were going to be chasing the game."
Ireland coach Declan Kidney admitted his side never recovered from early errors.
"We let them play well," he said. "We made turnovers early on, especially in the first quarter, and once New Zealand get ahead of you like that, it gives them free will to play the way they played for the next 60 minutes.
"We were just a bit too loose at the breakdown, they won all the collisions.
"It is quite a simple game, if you're losing the collisions you're going to lose the game."
New Zealand captain Richie McCaw was delighted with the way the hosts responded to criticism after the narrow second Test victory.
"It was great, we really picked up in intensity from last week, that probably sums it up even when we didn't have the ball," said McCaw.
"There is always a danger when you get 20 points up that quickly that you might throw the ball around more than you should, but I was happy with the way we got the mix right."