Jeremy Guscott Q&A

By Jeremy Guscott
Rugby Union analyst, BBC Sport
Last updated on .From the section Rugby Union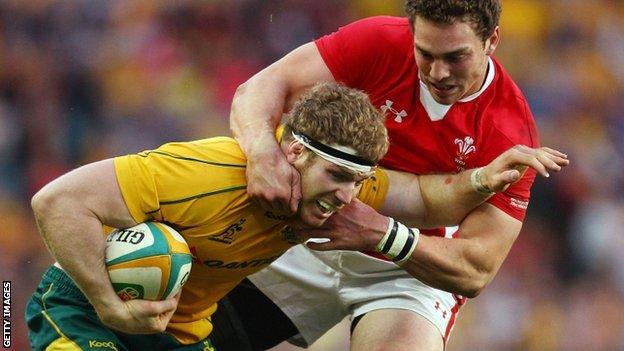 Among the topics the former England and Lions centre discusses this week are:
- England earning a creditable draw in the third Test against South Africa in Port Elizabeth
- Wales again failing to win another tight Test with Australia to lose their series 3-0
- Ireland suffering a record 60-0 hammering by a dazzling New Zealand
- Scotland finishing their tour with a 100% record after a last-ditch victory over Samoa
Hi Jerry, on Scotland's successful tour we seem to have been getting the small margins we were on the wrong side of before. In all three games the team seemed to buckle down to get that final score to win the game. My question is, do you think this is just the odds levelling out or is this team now getting the mental edge to see out close games? Midas_child
Hi Jeremy, with Scotland picking up three wins out of three, this may just be the confidence boost they needed. Italy have had a decent showing against Argentina, Canada and USA. Are we edging towards an extremely (even more so) competitive Six Nations year? SeaTea
Hi Jeremy, do you think the Scottish teams have finally started to find the composure required to succeed in international rugby? Scotland didn't have the finest displays but showed character when it mattered, by securing the last-gasp penalty against Australia and scoring the match-winning try in Samoa with little time on the clock. Have we found a side who can stand up when it really matters? Scott McCall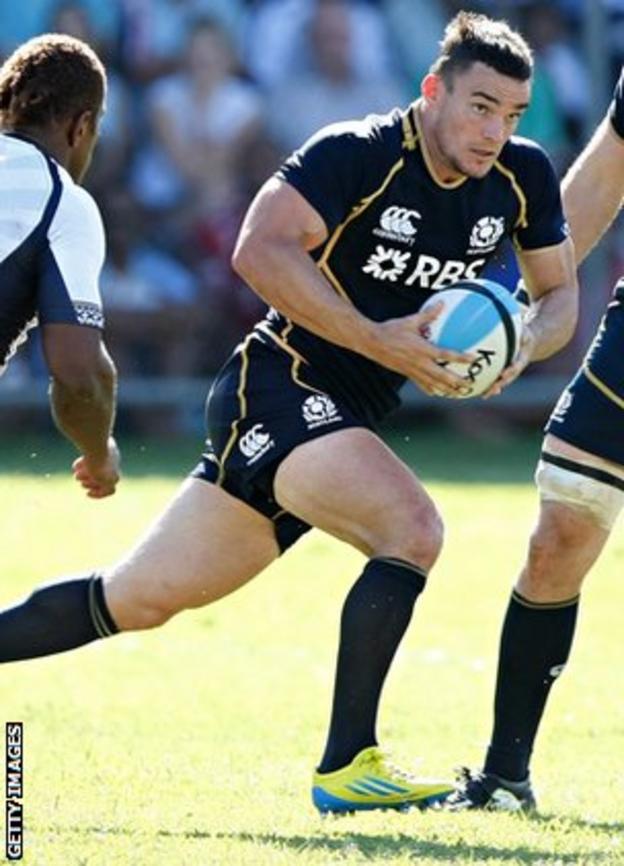 Without doubt Scotland exceeded expectation by beating Australia but wins against Fiji and Samoa must have been expected. It's very difficult to judge whether Scotland will be competitive during the 2013 Six Nations, the autumn series of matches will give us a better indication of improvement.
Hi Jeremy, do you think Andy Farrell deserves to be in the England coaching set-up, and if so in what capacity - overall backs coach, or defence or attack? And do you think his being there would have a positive or a negative effect on his son's career? TeaPartyBrit
Morning Jerry - I have to say I fail to see what Mike Catt has brought to the coaching team. England looked shapeless in attack and third/fourth phase ball was almost non existent. I know Mike has only had a month to bed into the management team but is it too much to assume a coach will make an immediate impact at international level? FrontRowUnionNo1
I believe Andy Farrell had a positive impact coaching England during the 2012 Six Nations, he connected with the players and got their respect. I don't believe if Farrell became a member of the England coaching set up it would affect his son's performances. I would put Farrell in charge of defence, Saracens had a very average attacking game but good defence when he was their coach.
I would agree a little with what you say about Mike Catt, I did expect to see more backs moves during the games against South Africa, particularly in the last game. England had enough ball to attempt more moves than they did and that was a shame. Look at how New Zealand and Australia use backs moves to great effect - England have to start soon.
Hi Jeremy, when you look at the tour matches there were obvious highs and lows for the four home nations, with Scotland obtaining the only clean winning sweep and indeed the only Test wins whatsoever. However, when the dust settles, where do the home nations really stand and what does the future hold? Rothoik
Scotland had a plus beating Australia, but still won't be sure what improvements have been made until they play in the autumn internationals and then the Six Nations. They have struggled to unearth a constant performer at 10 and until that player produces the required performances I think Scotland will struggle. They have a pack to match all the Six Nations teams but their backs, like England's, need to step up.
Wales could have won all three of their games and I look at them in much the same way as I did the England team of 2000. It's very much a case of when Wales start beating the southern hemisphere teams not "will they?". There's too much talent in the team, they just need to be that bit tougher mentally and start believing they're good enough.
Ireland have to work out very quickly if Declan Kidney is the right man for the national job because it appears his players play better for their provincial coaches than they do for him. The second Test could have been won by Ireland and not to make the most of playing eight minutes against 14 players would be a worry. Consistency in performance is required and this Irish squad is reasonably experienced and should be capable of that. I don't believe England, Wales or Scotland would have done any better than Ireland did.
England got a physical battering, at times you wanted to look away because you thought the players were really going to get hurt by the Boks. You can't read much into England coming back in the first two Tests because South Africa had lightened up believing the games were won. England can take some satisfaction in the draw because that was a team improvement. Clearly they need to be more physical, skilful and start using backs moves. England need to loosen up to find out what they're really capable of producing rather than looking like a programmed machine.
With Wales losing and England getting a draw, the IRB rankings have put England back above Wales. But do you think that England are currently the best team in the northern hemisphere? AdamD_v2Journal
I personally don't believe the current England team are better than Wales, most people would agree with that but the rankings are the rankings.
Hi Jerry. You said at the start of the Six Nations that 90% of the players of a Lions Test team would come from Wales and Ireland. Has that changed for you over this season? I can't help thinking a few more English and Scots would make the team now and certainly next year. GM Massingbird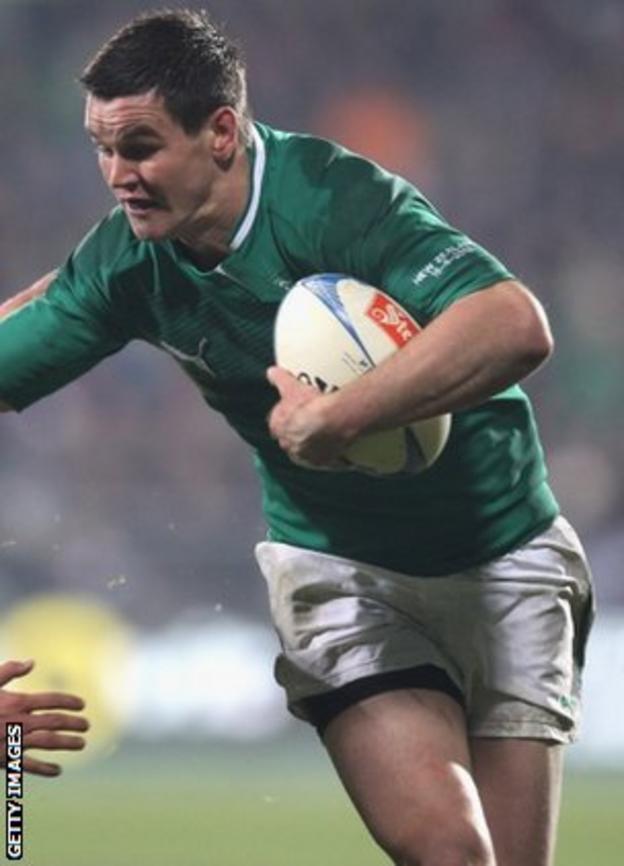 I still believe the Lions tour will be dominated by Welsh and Irish players. There's still eight Test matches left for most players to make the required impression to the Lions selectors.
Hi Jeremy. Who on earth are the Lions going to pick as fly-half this year? Jonathan Sexton cannot replicate his Leinster form at international level, Owen Farrell is a decent kicker and tackler but can't run his backs and Rhys Priestland has shown himself up as the very average player he is. Greig Laidlaw could be our only option, and even then as best of a bad bunch. Who would you pick? Rob
I think realistically as we stand the Test jersey is between Priestland, Sexton and Toby Flood but Laidlaw could have a brilliant season and push. Before the tours started I would probably have had Sexton starting, Priestland has fallen a long way and Flood has brought himself into contention. For Laidlaw to be considered Scotland need to have a sensational Six Nations.
Hi Jerry, following on from the summer Tests don't you think it would be interesting to see a world club cup? There would be some fantastic games - Saracens v the Reds, Toulouse v Crusaders - who do you think might win something like that? Dave Morgan
I'm not that interested in a world club cup given the seasons are different so it wouldn't be an even contest, if we ever get to a global season then yes I would like to see a match played although not sure there would be space for it. I think the results would surprise us, imagine the Reds playing the Tigers at Welford Road in December? Certainly Leinster could compete with all the southern hemisphere had to offer. All the top French teams would fancy their chance at home against any team. Leinster would be my favourite to win.
Hi Jeremy, what is the best pre-season training to get yourself into good shape for next season? Ferris6
You have to get yourself in the best possible physical condition you have ever been in and that takes a lot of hard work, commitment and some luck not getting injured. Work out your training schedule and stick rigidly to it and I'm sure by the start of the season you'll be ready.