Ex-Bath, Bristol & England flanker Micheal Lipman retires
Last updated on .From the section Rugby Union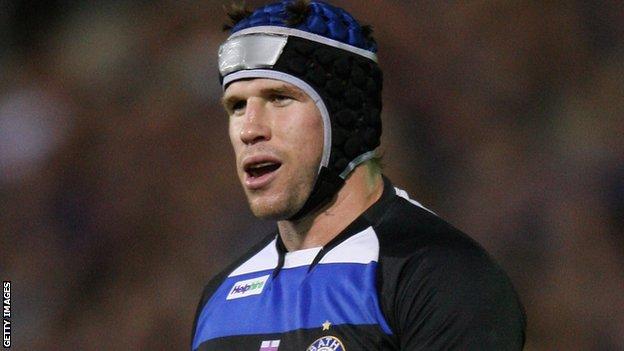 Former Bath, Bristol and England flanker Michael Lipman has announced his retirement from the sport.
The 32-year-old, who was with Super 15 side Melbourne Rebels, said a series of concussions meant he had to stop.
"Throughout my career I've had so many bangs to the head," he told Western Australia Today.
"I've just had too many. Enough's enough and when you're body's talking to you like it is now, you've got to listen to it and be sensible."
He added: "The hardest thing in anything really is to admit that your time is up and to come to terms with it.'
Lipman, who was born in London but grew up in Australia, joined Bristol in 2001 and moved to Bath following their relegation two years later.
His time at the Rec came to an abrupt end in June 2009 when he resigned along with his fellow joint-captain Alex Crockett and Andrew Higgins, amid allegations of refusing to take drug tests.
All three players were found guilty of misconduct by the Rugby Football Union and received a nine-month ban, he unsuccessfully appealed against the suspension and was not allowed to play again until February 2010.
After failing to find a club in England Lipman returned to his hometown club of Warringah in New South Wales before joining the newly set up Melbourne Rebels.
Lipman who had been linked with a return to English rugby with Newcastle Falcons said he had to put his long-term health first.
''It [the headache] is always there and you can feel the pressure in your head and when you start running and training makes it a lot worse," he added.
"You're just very confused really, and you're hazy and you're very clouded and not many things make sense.
''You just become very, very tired. You become exhausted straight away and you feel like going to sleep, when it should really be the opposite, because when you start working and training, the endorphins release and you get a pick-up. You shouldn't get totally down the way I've been.''