Ex-Wales fly-half Jonathan Davies welcomes rugby law changes
Last updated on .From the section Rugby Union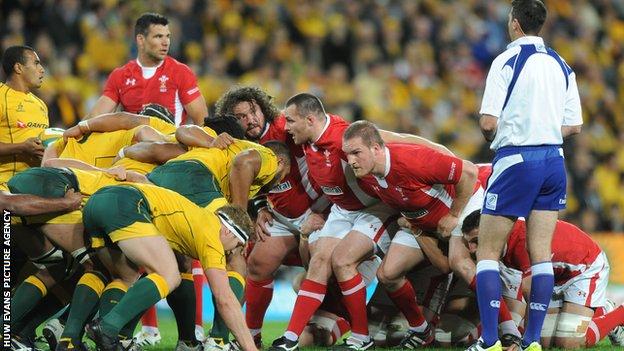 Ex-Wales fly-half Jonathan Davies hopes new law changes to the scrum and ruck have a positive effect on the game.
The International Rugby Board is to implement laws to stop collapsed scrums and speed up the ruck area.
Referees have fewer instructions to give at the scrum and the attacking team is allowed to keep the ball at the base of a ruck for only five seconds.
"It's for the benefit of everyone so I'm delighted [the IRB] are looking at that," Davies told BBC Wales Sport.
"As long the IRB are trying to improve the game."
There has been criticism especially of the scrummage area which has begun to take up a larger chunk of matches because of collapses and infringements.
That is why the IRB has decided to use new laws, which are experimental, in the northern hemisphere from the start of the 2012-13 season.
Instead of the referee saying, "crouch, touch, pause, engage", the official will tell the front rows to "crouch, touch, set".
"The scrum has been a shambles and everyone is getting fed up with it," complained Davies.
"Anything to simplify that would be a success."
But he did sound a note of caution about the consequences of the scrum change.
"We will just have to wait and see how it goes. Because in the professional world everyone will be seeking an advantage here, there and everywhere in the rule changes," he added.
"[But] the ball at the back of the ruck is good. They are trying to make it quicker which will benefit everyone.
"[But] who's going to be keeping time on that? It puts more pressure on the referee and the officials so that's not great news."
David Jordan, tournament director of the RaboDirect Pro12, believes the law changes at the ruck will benefit Celtic rugby's positive style of play.
"One of the things which does separate our [Pro12] teams from perhaps others is that we do move the ball and we like to play rugby and I think these law changes would hopefully help," Jordan said.
"The scrum area has become a problem and it's taking far too long with so many re-sets and I think the IRB are trying to improve that situation and we would welcome that.
"We want the ball to be in play. We want an open game and I think these are [taking the game] in the right direction. Obviously time will tell but let's hope they do the business."
In all there will be nine laws being amended by the IRB including international teams allowed to have eight rather than seven replacements and more powers for television match officials.