Leicester Tiger Julian White switches from front row to farming
By Owen Phillips and Martin Ballard
BBC Sport
Last updated on .From the section Rugby Union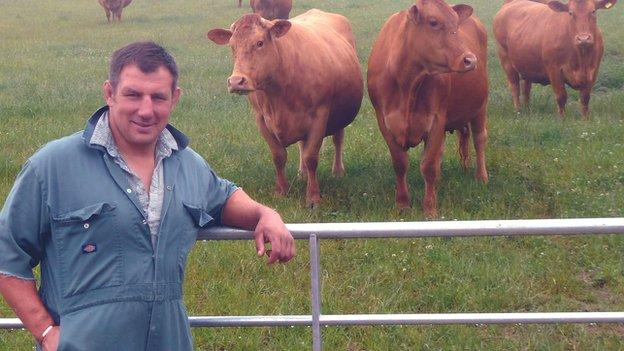 Julian White has had nearly 10 years as a Leicester Tiger terrorising fledgling front-row forwards, now he is looking forward to leading a less frantic life as a full-time farmer.
It is not the obvious career path for a World Cup-winner, but the 39-year-old prop has had enough of "leading two lives". He has decided to call time on a wonderful, trophy-laden, 20-year rugby career.
Imposing, scary and aggressive on the pitch he may be, but White is shy, understated and reluctant in the limelight off it. Retirement was in a style befitting the man.
His exit did not come with a big announcement; there was no fanfare, no flashy farewell and very little fuss.
White, who lifted the LV= Cup as an unused substitute in his final Tigers outing, looks back on his playing career with a great deal of pleasure and pride, but is completely ready to fully throw himself into farming.
White had been combining his Tigers duties with that of a part-time farmer for two years and it has taken its toll.
It certainly did not escape the attention of director of rugby and long-time team-mate Richard Cockerill.
"I probably frustrated Cockers a bit trying to juggle the two things," White told BBC Radio Leicester.
"With rugby when you've finished, you've finished. You have to look forward and try to set something set up.
"I never went to university and was never going to be a lawyer or an accountant. The only thing I wanted to do was farm, and it's not a career you can just finish and go into.
"I have made lots of mistakes and am still making mistakes. The thing is now that I have to make it pay. It's something I am passionate about and I really look forward to getting up every day and working on the farm.
"There are challenges; it's not an easy way to make a living but I am enjoying it."
Not that he did not enjoy his "other" career. And that was pretty successful too.
After the World Cup winning campaign with England he moved to Welford Road from Bristol and played in seven finals between 2006 and 2009, winning two Premiership titles and two Anglo-Welsh Cups.
He was also part of the 2003 Grand Slam winning England squad and won the Six Nations in 2001, before playing in all three Lions Tests in the ill-fated 2005 tour to New Zealand.
The timing of his departure from the sport seems perfect as White has slipped down the Tigers pecking order.
Tigers have Marcos Ayerza, Kieron Brookes, Peter Bucknall, Boris Stankovich, Martin Castrogiovanni, Dan Cole and Logovi'i Mulipola all competing for two positions.
"I had a fantastic career," White added. "And when I started playing years ago I never dreamed I would play for Tigers and do the things I did do, so I was very lucky that I managed to hang in there for as long as possible.
"Towards the end it was pretty frustrating. I had two jobs and ended up falling between the two. You want to start all the time and as you get older it obviously becomes less and less often.
"Tigers have been really, really good to me and gave me fantastic support and I can look back now when I am sat on the tractor and it's hard to believe some of the games you played in and some of the things you have done. It's cherished memories."
And as for the standout moments in his career?
"It's really hard to pinpoint one thing," White added. "Getting capped for England was great.
"But I just think it's being involved with a group of players with the same goal. It's not necessarily the big games, it is sometimes the games where you have to dog it and out and get a win which leads to the big games.
"Obviously the big games are key but I think it's being with a group of like-minded people who have one goal and achieve that at the end of the season.
"Probably the highlight was joining Tigers because they really put me on track, personally and in a rugby point of view. They steered me and I have a lot to be thankful for."
Now White farms more than 100 acres of land in Stoke Albany, Hallaton and Bramptonash in Leicestershire.
The life is less intense, but the pressure is still there. His main concern is not over a fearsome front row foe, but producing quality breeding stock.
The transition from rugby field to ploughed field, while not always smooth, has not been that strange.
"I have always been interested in farming," he explains.
"My parents weren't farmers, my grandparents were and I have worked on farms. When we came here we kept a couple of sheep and my wife brought me a cow for Christmas a few years ago now, and from there we built up.
"Now we have a pedigree heard of south Devon cattle. We calved just over a 100 cows this year and it keeps us pretty busy. We keep about 500 ewes as well.
"We are spread out we have the farm we have set up and most of our ground is in and around this area.
"Our main aim is to sell breeding stock and anything that is not up to scratch we sell at local markets.
But although he is relieved to be able to focus on life away from Tigers, he has not ruled out a return to rugby.
"I would hate to think I would never be involved in rugby again in one way or another," White said.
"Every rugby player coming up to retirement thinks they will do a bit of coaching.
"I haven't really given it a lot of thought and I am not a great one for putting myself forward for things.
"But if someone came along and said 'would you like to help?', I would like to be involved, definitely.
"I have a lot on my hands at the moment and have only just finished so we'll see what comes along. If there was something out there I would like that.
Until then he is relishing the simple life.
"We are really lucky," he explained.
"On a sunny day, I don't think there are many better places to be. I sit in my living room looking out and I wouldn't want to be anywhere else in the world."