Allen Clarke leaves IRFU job to take Ulster Academy role
Last updated on .From the section Rugby Union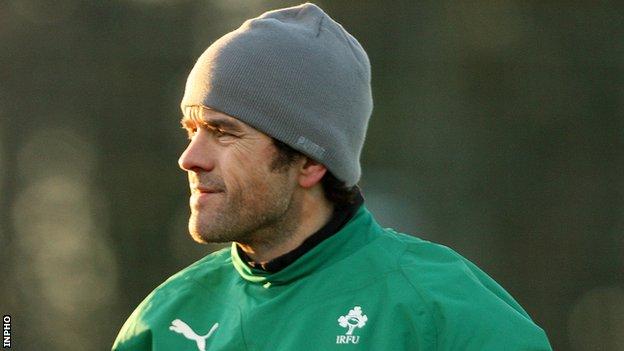 Allen Clarke is to move from his position as IRFU high performance manager to take a role with the Ulster Academy alongside Gary Longwell and Brian McLaughlin.
Clarke, Ulster assistant coach during Mark McCall's reign, has worked in the IRFU role for the past five years.
Ulster director of rugby David Humphreys said that he was delighted to secure Clarke's services.
Clarke's job title will be Ulster elite performance development manager.
"Ulster Rugby recognises the critical importance of investing in the future by developing talent from within and we have, and will continue to devote significant resources in terms of finance, facilities and personnel to this area," said Humphreys.
"We look forward to him building on the superb work already undertaken by Gary Longwell.
"The team of Gary Longwell, Brian McLaughlin and now Allen Clarke will ensure that we deliver and maintain a world-class high performance academy programme."
Clarke said that he had been "honoured and privileged to have been involved in such a critical role for Irish rugby over the past five years".
"I have worked with extraordinarily dedicated people across committees and team managements - but above all else so many of the young players I have come in contact with have been truly exceptional in their dedication and desire to progress to the highest levels," said Clarke.
'Ulster Rugby has done extraordinary work, both on and off the field, to develop rugby in the Province and is positioned for further major growth and success in the coming years."
IRFU director of rugby Eddie Wigglesworth paid tribute to Clarke's efforts over the past five years.
"Allen has done a tremendous job of developing the age grade representative structure and, indeed, the entire elite player development pathway within Irish Rugby," said Wigglesworth.
The timing of Clarke's move will coincide with the IRFU appointing his replacement.