Gavin Henson unplayable says London Welsh captain Jonathan Mills
Last updated on .From the section Rugby Union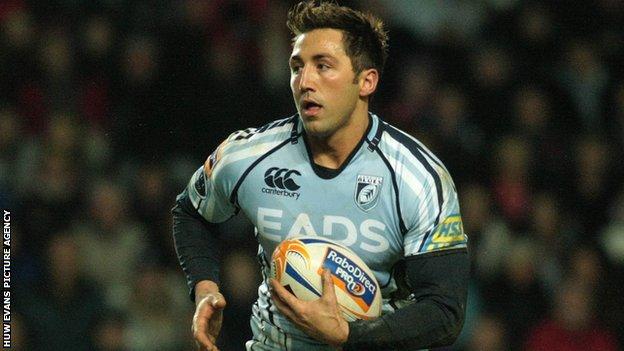 London Welsh captain Jonathan Mills says he would welcome the arrival of former Cardiff Blues back Gavin Henson - calling the Wales star "unplayable".
And Mills says Henson would be a great attribute to the London Welsh squad.
"Gavin is a quality individual, he has had a bit of a rough time lately, but on his day he is unplayable. He is that good," Mills told BBC London.
Jones was Henson's coach during the Wales international's five-year stay at the Ospreys where the pair helped the Liberty Stadium side win two Celtic League titles.
Wales' double Grand Slam winner has played for Saracens, Toulon and the Blues since leaving the Ospreys in controversial circumstances in October 2010.
Henson has only played a handful of games since suffering an ankle problem in the Ospreys' EDF Energy Cup quarter-final defeat by Gloucester in March 2009.
He took indefinite unpaid leave from the Welsh region before being released to join Saracens. But he then joined French Top 14 side Toulon in February 2011 after only four months at Saracens.
The Bridgend-born player left the south of France when Toulon cited financial pressures and his possible involvement in the World Cup as reasons for not keeping him for the 2011-12 season.
Henson then joined the Blues in October 2011 where he hoped to end his career, but left following the incident on a plane home from the Blues' Pro12 defeat in Glasgow.
"If he is ready to play rugby again, any club would want to have Gavin," added Mills.
Meanwhile, Mills has urged residents of Oxford to adopt London Welsh as their new club, as they prepare for their move to the U's Kassam Stadium.
Mills says the players were disappointed to have left Old Deer Park in Richmond, but believe they can attract a new following of supporters.
"We knew if we were going up to the Premiership we would have to move from Old Deer Park," said Mills.
"We didn't want to, it was the spiritual home of London Welsh, and I'm sure if we could have played Premiership rugby there we would have.
"But you've got to have a ground that is up to a certain standard and the Kassam really is a nice ground.
"I'm sure the die-hard London Welsh will come and support us and hopefully we'll get a new fan base in that Oxford area.
"The closest rugby team is London Irish and that is 30 miles away in Reading so hopefully we can pick up some of those floating supporters will become London Welsh fans."