Gavin Henson's past of no concern to London Welsh coach Lyn Jones
Last updated on .From the section Rugby Union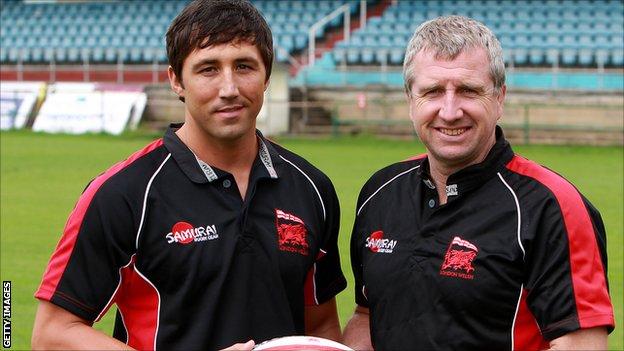 Gavin Henson's new boss Lyn Jones wants a line to be drawn under the player's recent past as they look forward to London Welsh's debut Aviva Premiership season.
Henson's Blues' time ended with his sacking over off-field misbehaviour.
"A line has to be drawn under that by everybody," said Jones.
"And it's for me to help my players in London Welsh achieve their maximum potential of which Gavin will be one of many and we are excited that he's come on board."
Jones coached Henson for five seasons at the Ospreys, where Henson spent seven years, albeit the last two of them during an absence for injury and personal reasons.
He left Saracens after a short period and departed Toulon at the end of the 2010-11 season in which he had also been disciplined over an off-field incident.
Jones said: "Once upon a time I worked with Gavin and rugby was his 100% focus.
"I think he's demonstrated lots of ability and potential over the years.
"Things haven't worked out in the last three or four seasons for him for whatever reason."
He added: "He understands that the last three or four seasons have been difficult to say the least and he wants to see out his career now by really fulfilling his potential and we want to help him along that route."
Jones also says Henson must ensure he makes the most of his chance in the Premiership before any thoughts of a Wales recall enter his head.
Henson last played for Wales in August 2011, a game in which a broken wrist ended his hopes of going to the 2011 World Cup.
Jones said: "I think Gavin will have his hands full in the London Welsh squad for the coming season.
"And he has stiff competition, he has a lot to prove to his coaches and his peers and I'm sure he'll be firing on all cylinders to ensure he establishes himself a firm and good squad player at London Welsh first and foremost."
As well as head coach Jones, Henson will also link up again at London Welsh with former Ospreys and Wales centre partner Sonny Parker, who joined the Exiles in April.