Northampton Saints appoint Jon Curry as academy coach
Last updated on .From the section Rugby Union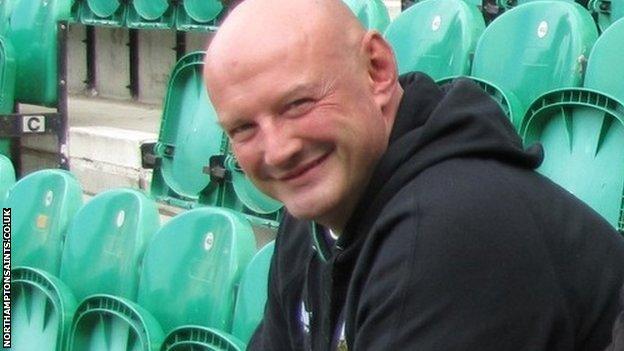 Northampton Saints' new academy coach Jon Curry says his focus is on providing a regular crop of youngsters to the first team.
Curry joins the current academy staff of Dusty Hare, Alan Dickens, Mark Hopley and Ross Stewart.
"The academy is there to [provide] quality players, every year, into the first team," he told BBC Northampton.
"It's a matter of identifying the right players and nurturing them to get the best out of them."
Curry was head of Leicester Tigers' player development centre in Norfolk at the same time as Hare was with the club.
He was also the director of rugby at North Walsham RFC, before moving to Spain.
"I joined for the chance to work in the Premiership and to work with Dusty again," he added. "I had great times with him at Leicester and when he rang me around Christmas time, it was too good an offer to refuse."
The Saints Academy has regularly produced players for England, most notably Courtney Lawes, whilst Ben Nutley, Mike Haywood and Alex Day have had England representative honours.
"If they're good enough for our first-team squad then it's very unlikely they'll have gone through without representative honours. But it's not the be all and end all.
"You look at the number from the [England] Under-16s group who make it through to the Premiership and it's not a massive amount.
"The most important thing is that we produce what we want. If they get selected for England, Scotland, Wales or Ireland then that's fantastic."