Mark Cueto admits further England selection unlikely
Last updated on .From the section Rugby Union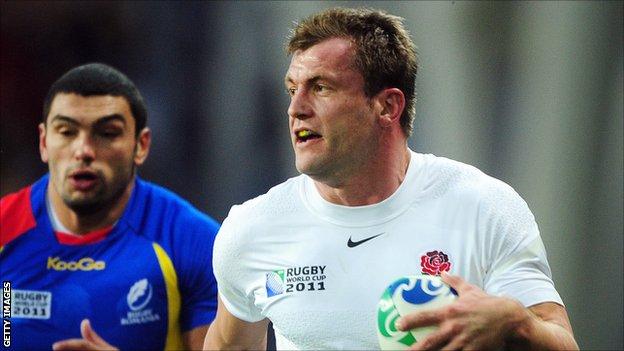 Sale Sharks winger Mark Cueto has conceded that his England career is over, but has said he will never make himself unavailable for selection.
Cueto told BBC Radio Manchester: "I'm still available but I understand the situation, I'm slipping out gracefully.
"You always hold a little light but you've got to be realistic. I know I'm not going to play for England again."
He continued: "I'm not just going to announce my retirement because I know that. I never wanted to officially announce that I was retiring. It's not the sort of thing that I wanted to do.
"I'd always say I'm available but it's not going to happen now. I'm just going to look forward to working hard and playing well for Sale in my last few years."
Cueto made his international debut in November 2004 and has scored 20 tries for his country, making him one of just eight England players to reach the landmark.
But big changes followed a disappointing 2011 World Cup campaign in New Zealand, when controversy dogged England throughout the competition and they were eventually knocked out at the last-eight stage by France, losing 19-12 in Auckland.
Incoming coach Stuart Lancaster plumped for youth ahead of experience during the 2012 Six Nations, with Cueto one of the players to be left out.
"Ultimately for me the 2011 World Cup was the big aim," said Cueto. "I'd played in 2007 and had the experience of a lifetime.
"I had an injury and missed out on the 2008 Six Nations, but as of 2008, I played three years solid for England.
"I knew the World Cup was a massive target, and realistically that if I managed to get there and play in that World Cup, that would probably be it. That's the way it's worked out and that's fair enough."
Cueto is now concentrating on his club career with Sale, who will be playing Heineken Cup rugby next season, as well as moving into their new home, the Salford City Stadium.
"We want to give a good reflection of ourselves in the Heineken Cup," he added. "We've got some fantastic teams coming to Manchester.
"It's a but we've been lucky with the teams we've got, in terms of how big they are and drumming up support and interest."