England wing Chris Ashton excited by switch to Saracens
Last updated on .From the section Rugby Union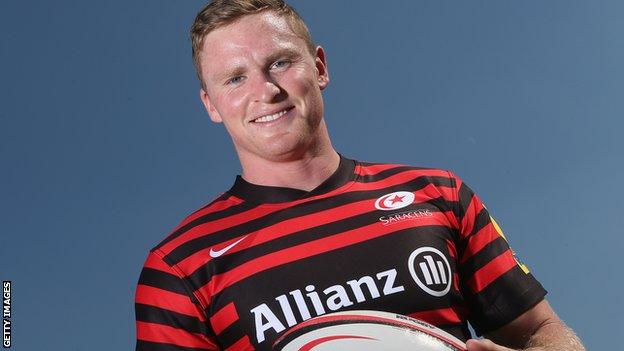 England wing Chris Ashton is hopeful he can take his game to a new level in a more "relaxed" atmosphere at Saracens.
The two clubs are a "pretty completely opposite", Ashton told BBC Three Counties Radio.
"It's a relaxed place. I'm not saying Northampton wasn't but it was quite full on a lot of the time," he said.
"They trust you to do your own thing, the lads in general are quite a welcoming bunch and I've had no problem speaking to anyone or being around anyone. I'm enjoying it so far."
So determined was Ashton to make a positive start at his new club, he reported for pre-season training a week before most of the squad.
"One of the reasons I came here was to help my rugby, to freshen it up and push myself again.
"Coming here, I've got to start again with it all, I've got to impress and I've got to get myself in the team.
"They've got good wingers here who can play instead of me any time so I'm always going to challenge myself," said Ashton, who began his career in rugby league with Wigan before switching codes and who has scored 15 tries in 23 appearances for England.
Saracens will start the new season playing home games at a variety of grounds, including Twickenham and Wembley, before settling at their new Allianz Park home in Barnet next February - where Ashton and his team-mates will have to adjust to an artificial playing surface.
"I have some friends up at [Super League side] Widnes and apart from the [friction] burns [from their artificial pitch], they reckon they move a little bit quicker," he said.
Asked how concerned he was about the possibility of burns, he joked: "We play in the winter so it's always wet. I think it's just league lads are a bit soft, aren't they?"