Worcester Warriors carry out judo training
Last updated on .From the section Rugby Union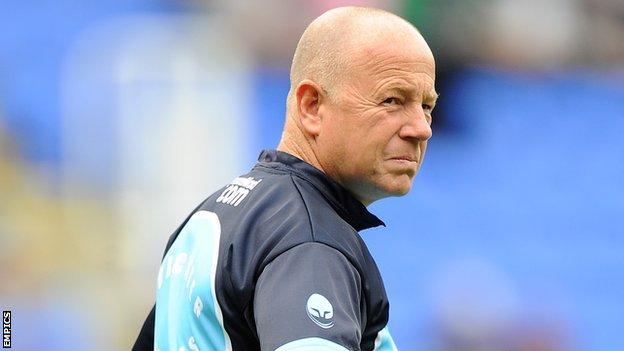 Worcester Warriors' players have been training with Olympic standard martial arts experts in a bid to sharpen up their pre-season fitness.
Worcester have already been back in training for seven weeks in a bid to be totally ready for the new Premiership season against Bath on 1 September.
Head coach Richard Hill said: "We've had a couple of international judo players who have been training with us.
"We've had some combat conditioning which has been pretty brutal."
Hill added: "It has put the players out of their comfort zone and they have been throwing each other about.
"We have been down to the Trojans Gym, the mixed martial arts centre in Worcester, which was an interesting experience, although I was frightened to death at times in case we picked up any injuries."
Having also established a link-up with top French club Biarritz, following the appointment of Mathieu Rourre as their new attack consultant, Hill believes there are things his squad can learn from across the Channel.
"Mathieu Rourre, the coach in charge of the academy at Biarritz, is very keen for some of our players to go across and experience French rugby," added Hill, who himself spent a period in France coaching at Chalon-sur-Saone.
"We can begin to look at pre-season friendlies with them and maybe go down there for a tour that would take in games with Biarritz and Bayonne, hopefully from next year."
An extra grounding in French rugby should also help improve Warriors' European ambitions.
Along with Italian minnows Rovigo and Spaniards Bizkaia Gernika, they will be facing seven-times French champions Perpignan in next season's European Challenge Cup.