Prop Matt Stevens retires from England duty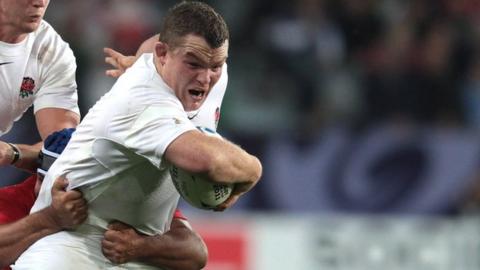 Prop Matt Stevens has ended his England career.
The 29-year-old Saracens player won 44 caps for his country and appeared in both the 2007 and 2011 World Cups.
But with a young family to look after, he feels he will not be able to commit through to the 2015 World Cup, which will be held in England.
"This is one of the most difficult decisions I have had to make. Playing for England has been the ultimate honour," he said.
"I have been very privileged and proud to wear the white shirt and play with some great players."
Stevens was given a two-year ban after testing positive for cocaine following a match for Bath in February 2009.
Once his ban expired, the South African-born forward resumed his career with Saracens, before fighting his way back into the England team.
He was retained in the England set-up when Stuart Lancaster replaced Martin Johnson as boss after the unsuccessful 2011 World Cup campaign and was in the squad for the tour of South Africa during the summer, but did not play because of a shoulder injury.
Stevens said he is sure that England are "heading in the right direction towards 2015" under Lancaster's direction, adding: "I remain a huge supporter of what they are doing."
He continued: "I have a young family and, conscious that I would not be able to commit to the World Cup in three years, I have decided that the time is right to call it a day and to focus on my rugby at Saracens."
As a result of his drugs ban, the versatile Stevens, who can prop on either side of the scrum, did not play for England between November 2008 and August 2011.
He appeared off the bench in all five matches in the 2012 Six Nations, with his last international cap coming against Ireland in March.