Rugby sevens: Tom Powell excited by chance to play at Rio Olympics
Last updated on .From the section Rugby Union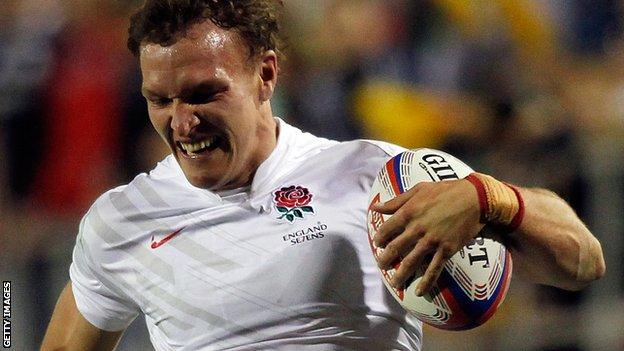 England's Tom Powell cannot wait for sevens rugby to become part of the Olympics after watching the crowd response to London 2012.
"London has really brought home that sevens will be in the next Olympics. It's a shame we're not there this year," said Powell.
"Half our (training) camp we spent talking about how we wished we could be in the Olympic Village and competing."
The 26-year-old believes there is a valid comparison to be made with the way beach volleyball has been received in London.
"People have fallen in love with it," he told BBC Radio Cambridgeshire. "The carnival atmosphere around the stands and rugby sevens is very much like that.
"You don't need to know everything about rugby to understand what's going on.
"It's a very fast-flowing, exciting game where there's lots of hits, lots of tries and lots of stuff going on in and around the stadium to keep people entertained."
England finished third behind New Zealand and Fiji in the sevens World Series earlier this year, but it will be a Great Britain team in 2016, with players from Wales, Scotland and Northern Ireland also coming under consideration for selection.
And Powell believes it could be hard to pick a winner when the Games arrives.
"You've got the normal big guns in rugby, like New Zealand, Australia, South Africa, but there's some interesting movements coming from Japan and Russia and China," he continued.
"Since 2009, when rugby was taken into the Olympics, they've actually got an hour a week in their schools' curriculum playing rugby sevens and with the money they've got, and the amount of people they've got, they're going to become a powerhouse at some point."
As for the hosts, he added: "We played Brazil in Vegas earlier this year and they were a decent side - it's just getting bigger all over."