Guernsey boss Jordan Reynolds has National Three confidence
Last updated on .From the section Rugby Union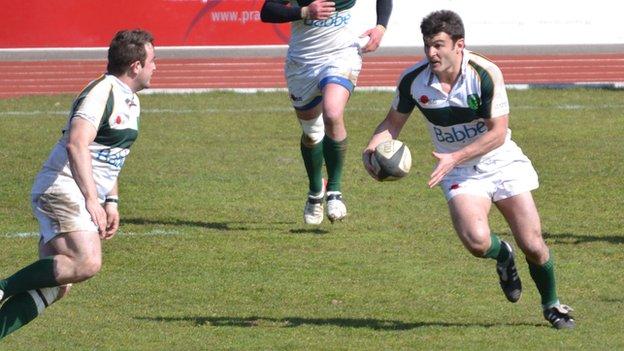 Guernsey boss Jordan Reynolds is confident his side will fare well in National Three rugby, despite being the only fully amateur side in the league.
Reynolds has added former Bristol forward Tom Pool, New Zealander Villi Tosi and Australian Jason Harvey since last season.
"We've prepared in the best way we possibly can," he told BBC Guernsey.
"With the games being a lot harder this year, we hope we can maintain our strength," he added.
While Reynolds has brought several players in, Luke Jones has left to join Leicester and Robin le Cocq is playing a season in New Zealand.
"One of the truths that we found out is that pretty much every team in the league is semi-professional now," Reynolds continued.
"A lot of the guys are being paid and some of the teams that were top last year have still brought in seven or eight guys."
But Reynolds says his side must not start the forthcoming season as they did the last if they are to challenge for promotion.
"We've got to concentrate hard. We lost three games early on last year and everyone thought that was the balance of where our season was and maybe that was our level.
"We turned it around really well and we ended up pumping a lot of teams by 40-odd points, so we've got to find that level again and raise the bar again.
"I've brought in a lot of new systems this year. We evolved last year to counteract how hard the competition would be and we've done that again this year.
"We've been really working hard as a team to gel that together and we're trying to speed up a game a lot more."
But Reynolds says that his players must ensure that they are mentally right if they are to succeed at the higher level.
"The guys attitudes have got to be there, you can bring in all these systems, but it's up to the individual players.
"We're coming off a good season last year and hopefully we can springboard that into this season, but at the same time it's going to be very tough."