Exeter Chiefs still wait for Watisoni Votu clearance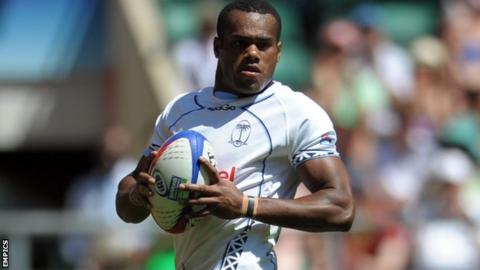 Exeter Chiefs are still waiting for immigration clearance for Fijian international winger Watisoni Votu.
this summer but has yet to be allowed into the country and it seems doubtful that he will be at Sandy Park in time for the start of the season.
"We're still assuming we're going to see him here potentially in September," head coach Rob Baxter said.
"We're still waiting on various visa situations," he added to BBC Sport.
"It's not that easy to bring people into the country, I think people are aware of that and you have to get a lot of paperwork in place and a lot of things have to be done that don't happen overnight."
And Baxter says with the Olympics in London, the time taken to process people's visa applications has increased.
"The bits of paperwork that allow us to bring him over are 28-day or six-week waits, then you move on to the next part of the process.
"You have to remember that the Olympics have been taking place and there's been a lot of people moving around in and out of Great Britain and everything's taking a little while.
"Things with Dean Mumm are progressing at the same level and hopefully we'll see him around here relatively soon," Baxter added of the Australian international second row who is due to join from the Waratahs.
"What we're working very hard on at the minute is that we get the group players that we have here now up to speed and ready to play at Premiership intensity," Baxter added.