Adam Jones 'glad' of disagreement with Ospreys boss Steve Tandy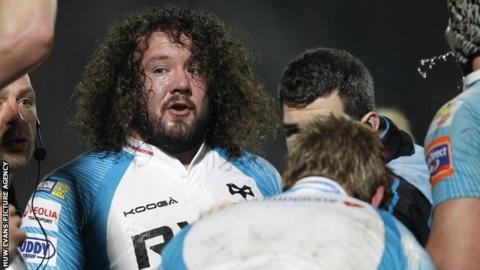 Adam Jones has praised Ospreys head coach Steve Tandy for being his "own man" in a "disagreement" between them.
Tandy took over following the departures of Scott Johnson and Sean Holley in February, 2012, guiding the Ospreys to the Pro12 title.
Jones, 31, says he and Tandy are "big friends" after spending 13 seasons as a team-mates.
But in a straight-talking interview Jones said he is "glad" they had the pre-season spat.
Wales and British and Irish Lions prop Jones would not reveal the reason for the disagreement.
He said: "Obviously what's tough with Steve is he's a [former] player and I've kind of played with him for the last 13 years so he's a good mate of mine.
"And I'm glad, you know, we had a disagreement about something when we came back in so he's pretty much told me: 'it's my way' or 'if you don't do it my way you can bugger off' - no, it wasn't quite that bad.
"But he's been his own man and I'm glad of that, really.
"He's a very straight individual and he'll do thing his way, which is really good.
"He'll tell you… he'll call a spade a spade. He'll tell you what he thinks... he's very straight."
Jones says the Ospreys will target improved performances in the Heineken Cup and retaining the Pro12 crown in the forthcoming season.
And he says Tandy's approach has helped refresh the Ospreys' training and match preparations.
"Things are quick. Things are sharp these days. It's a bit different to last season where things went on a bit longer.
"We spend five minutes in a team room now… it's freshened the boys up. The boys just want to go out and train then so not having to training after an hour-long meeting session.
"It's a big thing for us. You speak to any player - they don't want to be sat in there chatting about things for hours."
Jones does not expect to return to action following a "13-month" season that included the World Cup, a Wales Grand Slam and tour to Australia until mid-September.
He will do so in a squad that has lost wings Shane Williams (initially to retirement before deciding to join Mitsubishi Dynaboars) and Tommy Bowe (to Ulster).
But he says loose-head props Ryan Bevington and Duncan Jones must strive to fill the boots of Bath's Paul James, who Jones believes is the Ospreys' biggest loss.
"Paul James, for me, would be the biggest loss we've had - more than Shane, more than Tommy.
"He's the most underrated player, I think, in Wales, in probably Britain - a big scrummager for us.
"And it's a hard thing to replace. We've got two players in Duncan and Ryan and it's up to them now to sort of… Dunc's been around, he's got 50 caps and it's up to Ryan to step into Paul's shoes."