Skipper Alun Wyn Jones eyes Ospreys Pro12 defence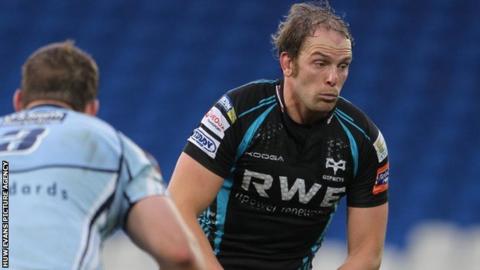 Ospreys skipper Alun Wyn Jones admits they will have to work "harder and smarter" to make history by retaining the Pro12 title.
No team has yet successfully defended the competition in any of its guises, including four-times winners the Ospreys.
Wales lock Jones said: "We've never really had that great a defence of it off the back of winning it.
"I don't know why. If I did we'd have won it every year."
The Welsh region begin their title defence at Treviso on Friday, 31 August - a team they will face four times next season in the Pro12 and Heineken Cup tournaments.
Jones says the Ospreys will begin to set their goals after the first few weeks of the season, hoping to regard themselves as strong contenders on all fronts.
They disappointed in the 2011-12 European competition, having also failed to progress further than the quarter-finals throughout their existence.
And after learning in December of Scott Johnson's impending switch from coaching director to a job with Scotland, Sean Holley left in February and former flanker Steve Tandy took over as head coach.
Three months later the Ospreys completed a notable turnaround in fortunes by beating Leinster to the Pro12 title in Dublin.
Jones said: "We're pleased with what we achieved last season.
"Pre-season came at pretty bad time for us, really, with the way we were going towards the end of last season.
"But obviously Steve's had his bite of the cherry and had a lot of success in a very short space of time."
The Ospreys bade farewell to 11 players and recruited two ahead of the new term.
But with only two of the side that beat Leinster in the final having left - wing Shane Williams and prop Paul James - Jones feels his their rivals will be determined to make their mark.
"Being the champions we're in the cross-hairs of the other sides if you like and they want that trophy back.
"But it's a case of us having to work harder and smarter and keep the desire and the simplicity that we had in our game last season.
"When you look at the [Pro12] media guide, there's 11 players out, two in.
"We are only losing two from the side that started the final, but obviously they were big players for us in Shane Williams and Paul James. So they'll obviously be big losses.
"But a lot of the other boys who moved on have injury problems and weren't involved, albeit they were great additions to the squad."
As for Europe, Jones acknowledges the Ospreys have failed to live up to their own expectations.
He said: "We probably under-achieved [in Europe] even though we continually got to the quarter-final three-times on the bounce before last year, when we didn't.
"And two years ago we lost narrowly to Biarritz by a point.
"So we've been there or thereabouts and knocking on the door, but still [been] underachieving by our ambitions.
"And it's no easy task this year. We'll face Treviso four times and Toulouse and Leicester have seven Heineken Cups between them."