London Irish back Shane Geraghty has 'unfinished business' at Exiles
Last updated on .From the section Rugby Union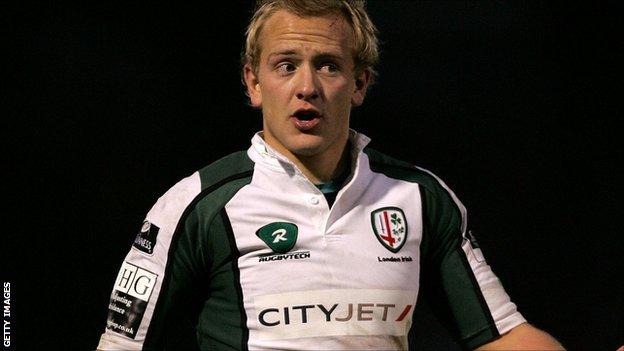 Returning London Irish back Shane Geraghty says he has "unfinished business" at the Madejski Stadium.
Geraghty, 26, was a product of the Exiles' academy but left the club under acrimonious circumstances for Northampton in 2009.
"When they rang me up and said would I be interested in coming back what drew me back was that there was unfinished business," Geraghty told BBC Berkshire.
"I would not have come back to any club in England except London Irish."
After leaving the Exiles, Geraghty spent two seasons at Franklin's Gardens before then moving to France to play for Brive.
And he says the return to London Irish has reinvigorated him, adding that he has changed as a player and a person since his last spell at the club.
"It's really nice to be back, in a way it doesn't feel like I've been away," he continued.
"Bringing in Shaun Edwards as defence coach is a real coup and I'm really enjoying it. You wouldn't want to come back to a club that hadn't moved on.
"It would have been very difficult to have come back in the previous regime, when I signed I was coming back with no baggage and was willing to move on and let rugby be the focus.
"There was a lot of bad press at the time, it was a tough time for me and my family, but you have to get on with it."
Following his acrimonious departure, Geraghty, who has six caps for England, knows he is under pressure to deliver but says he is relishing the challenge and wants to become a legend at the club.
"I'm more mature now, it was a learning curve, contract negotiations are a tough time. I've learned from it and it is hard to look back at it but I have another opportunity now to put the record straight.
"I've moved on, I'm more experienced on the pitch and off the pitch my life is quieter. I've moved here with my fiancee and rugby is my main focus. I'm lucky to be back here and I need to work hard to get London Irish get back to where they want to be."
He added: "In the changing room and corridors you've got the names of people who have played 100 games or more for the club.
"I've played around 70 games and seeing that every day is a big motivation.
"I want to be remembered as a very good London Irish player and join the likes of Bob Casey, Nick Kennedy and Paul Hodgson on that wall because they were very good players for London Irish and made the club what it is today.
"This club means so much to me, it's very close to my heart and to join those names on that wall would mean a lot to me."