Jersey survival is 'bare minimum' for director Ben Harvey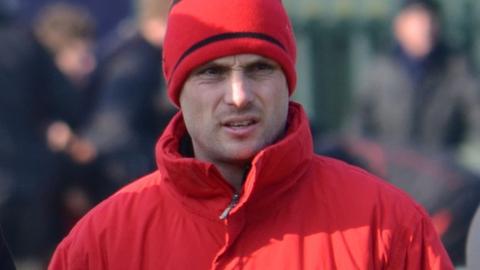 Surviving in the Championship is the bare minimum for Jersey, says the club's director of rugby Ben Harvey.
The islanders are preparing for their first season in the second tier after four promotions in five years.
The size of the St Peter ground would prevent Jersey from an unlikely further promotion, but Harvey is keen for his side to continue their progress.
"I'm not setting targets but at the bare minimum we want to stay in the league," he said.
"I think it's realistic that we can sustain the Championship. I think it's sustainable as a club in terms of rugby but also as a business.
"If you're thinking along the lines of sustaining the Championship, then you should be looking along the lines of sustaining the Premiership, and building a stadium has got to be the goal in years to come."
Jersey have improved facilities at their St Peter ground over the summer with a new terrace for up to 1,000 fans.
The capacity has also been increased in front of the clubhouse as officials try to keep up with the pace of the success on the pitch.
"Huge credit goes to the lads that have been involved because at the end of the day they are the ones who have got us here," Harvey told BBC Radio Jersey.
"I have no reason to see why they can't go on to do bigger and better things again.
"I'm not going to set any targets this year, so we just keep looking forward as a club, and hopefully make sure we do ourselves proud as we've done in every year.
"We're going to make sure that we're competitive in every game and go out there to win every single game we can."
Former Jersey players including Nathan Kemp and England international Matt Banahan have tipped the club to impress in the Championship.
The islanders start their Championship campaign on Saturday, 1 September at home against Cornish Pirates.