Lions 2013: Warren Gatland 'agrees' release deal from Wales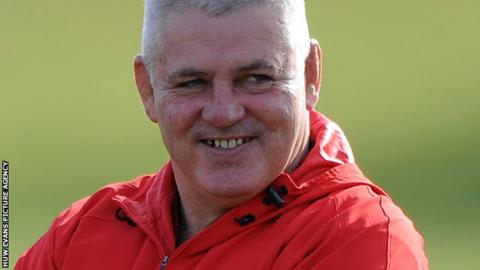 Wales coach Warren Gatland has said he has reached an agreement with the Lions that will allow him to take charge of two of Wales' autumn internationals.
Gatland, 48, is set to be appointed in early September as the Lions coach for the 2013 tour to Australia.
The Lions had wanted him to relinquish his Wales role for a year, but Gatland has said he will be in charge against Australia and New Zealand.
"We still haven't signed anything yet but it's very close," he said.
"And if I do take the position I'll be seconded to the Lions for 10 months, but they've allowed me to be involved in the All Blacks Test [against Wales] for that week, and the Australian week."
Gatland has long been the favourite to be the next Lions coach, and the Welsh Rugby Union announced back in March that the Kiwi would be released from his contract should he be offered the job.
His appointment was expected to be finalised within a month, but the process was derailed after Gatland suffered a double heel fracture in a fall while cleaning windows in New Zealand.
He has stayed in his native country since then but plans to return to Great Britain on Sunday to prepare for his Lions role.
Gatland's injury forced him to hand over the reins to assistant Rob Howley to take charge of Wales' three-Test tour to Australia, although Gatland was able to join the squad to observe the final two games.
Howley will again deputies when Wales face Samoa and Argentina at home in November, and for the defence of their Six Nations title in 2013.
But the WRU were keen to have Gatland in charge to face New Zealand (24 November) and Australia (1 December) and it would appear the Lions have relented to that request despite their original wish to have a coach in place for a full year.
"I won't coach the Samoa and Argentinian weeks or be involved in the Six Nations," Gatland told the Sydney Morning Herald. "I think that's trying to give the position some neutrality."
If appointed, Gatland would become the second New Zealander to coach the Lions, following Graham Henry's unsuccessful stint in 2011.
Henry was also in charge of Wales at the time but resigned seven months after the Lions tour following a number of poor results.
Gatland, who has won two Six Nations Grand Slams with Wales and reach the 2011 World Cup semi-finals, was part of Ian McGeechan's coaching team with the 2009 Lions in South Africa.