Brett Sharman's Northampton contract terminated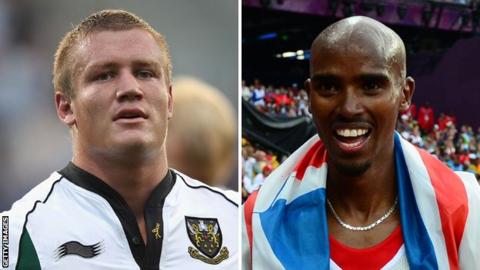 Brett Sharman, who has been released by Northampton Saints.
The club says the decision to terminate the South African hooker's deal was due to a long-standing knee injury.
It was announced the day after Saints said Sharman was subject to internal disciplinary procedures over the tweet.
Sharman's message read: "Good luck Mohammed running for Paki... I mean Great Britain..."
Sharman, 25, apologised after his comment on Twitter.
He posted the tweet on 11 August when Farah won a second Olympic gold in the 5,000m.
Sharman has made 68 appearances for Northampton Saints but his last outing was back in January.
Since then a knee injury has ruled him out of action, and the club say with no immediate prospect of returning to full fitness, a decision has been made to terminate his contract.
"It is always a shame when someone's contract comes to an end in these circumstances," said Northampton director of rugby Jim Mallinder referring to the injury.
"Brett has contributed a lot to the squad in his time at Franklin's Gardens and we wish him all the best for the future," added Mallinder.
Sharman joined the Premiership club in November 2008.
He said: "I've enjoyed my time at the Saints.
"It is a great club with good people and I am sure that there will be major success coming to Franklin's Gardens sooner rather than later. The players, management and supporters all deserve that and I wish them every success."
Farah was born in the Somalia capital, Mogadishu, but came to live in the UK when he was eight years old.
His win in the 5,000m, a week after his gold in the 10,000m, was described by BBC commentator Brendan Foster as "the best moment I've ever witnessed in athletics in Britain".