Warren Gatland presence vital for Wales Tests - Robert Jones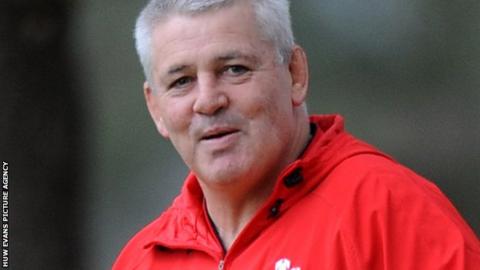 Robert Jones has welcomed the news Lions coach-elect Warren Gatland will be in charge of Wales' autumn matches against New Zealand and Australia.
Gatland says he has reached an agreement with the Lions which allows him to take charge of two autumn Tests.
The Lions had wanted him to relinquish his Wales role for a year, but Gatland says he will be in charge of the two Tests in November and December.
"It's important that Wales have done that," Jones said.
"Obviously his capacity as a coach and to get the best out of his players has been evident for so long and these are two big games."
Wales head coach Gatland is set to be appointed as the Lions coach in early September for the 2013 tour to Australia.
The Welsh Rugby Union announced in March that the Kiwi would be released from his contract should he be offered the job.
Gatland's confirmation as Lions coach has been delayed after the New Zealander suffered a double heel fracture and missed Wales' summer tour to Australia.
The WRU were keen to have Gatland in charge for the games in Cardiff against New Zealand on 24 November and Australia on 1 December.
It would appear the Lions have relented to that request despite their original wish to have a coach in place for a full year.
And Jones, who toured with the Lions in 1989 and 1993, added: "Having lost the series down in Australia in the summer I'm sure he [Gatland] will be desperate for this Welsh side to get a southern hemisphere scalp.
"Either of the two, or the two, would be fantastic.
"Obviously he's not there for the entire season but certainly for these two games I'm sure will be a big boost for Sam Warburton's team and the rest of his coaching staff."
Gatland will not be in charge of Wales' games against Samoa and Argentina during in November and will also miss next year's Six Nations.
But former Wales scrum-half Jones does not believe Wales will suffer and says assistant coach Rob Howley will be an able caretaker after deputising on the tour to Australia.
"I don't think it will affect Wales too much," Jones said of Gatland's absence.
"These guys have been together some time as a group and despite not having Warren Gatland there they are all quality people who can take this Welsh side forward.
"He's [Howley] shown his quality in his leadership and his ability to get the best out of the players he's got.
"It wasn't a successful tour in terms of results but in terms of performances it was very good down in Australia."