Gavin Henson thankful for London Welsh chance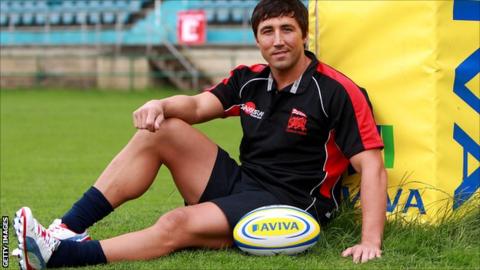 Gavin Henson has admitted he thought he would never be given the opportunity to play rugby again and is thankful for his chance at London Welsh.
Henson, 30, was sacked by Cardiff Blues in April and has not played since.
But his former Ospreys coach Lyn Jones - now boss at Welsh - has given him a route back into the game.
"I did not think I would get another chance in rugby but I have and hopefully I can take this opportunity," Henson told BBC Sport.
The Welshman has only played a handful of games since suffering an ankle problem in the Ospreys' EDF Energy Cup quarter-final defeat by Gloucester in March 2009.
He took indefinite unpaid leave from the Welsh region before being released in October 2010 to join Saracens, but then joined French Top 14 side Toulon in February 2011 after only four months at the Premiership club.
The Bridgend-born player left the south of France when Toulon cited financial pressures and his possible involvement in the World Cup as reasons for not keeping him for the 2011-12 season.
Henson joined the Blues in October 2011, where he hoped to end his career, but left following an incident on the plane home from the Blues' Pro12 defeat in Glasgow.
Some were surprised at his decision to join Premiership new boys London Welsh, but he admits the offers were not flooding in.
Henson has also returned to his favoured outside-half position, something that has reinvigorated his desire for the game.
"They were the only team that would give me another chance, but it's great to be back involved playing rugby again," he said.
"I'm just looking forward to the start of the season, I've said I've been keen to play 10 for quite some time and Lyn is happy for me to play at 10.
"I've worked well with Lyn in the past and have probably played my best rugby under him in 2003-04.
"So hopefully I can recapture that form and I'm very much looking forward to the season. I've had a good pre-season as well and I haven't had one of them in a while so I'm looking forward to the challenge.
"It's been such a long time since I've played 10 and the game has moved on so much but I'm enjoying being back there, I have missed it."
Welsh will be favourites for relegation this season, but Henson believes they can defy the odds and stay in the league.
"It looks like we've got a good squad and I can't wait for that Leicester game now," he said.
"We'll do everything we can to stay in the league and I think we'll be capable of it.
"Since I've come back into rugby from my break I've always said all I want to do is play rugby, but I haven't had a chance to do that.
"Things are different here, I'm more involved and it looks a lot more positive, I can't wait for the season. I just want to let my rugby do the talking."