Doug Howlett replaces Paul O'Connell as Munster captain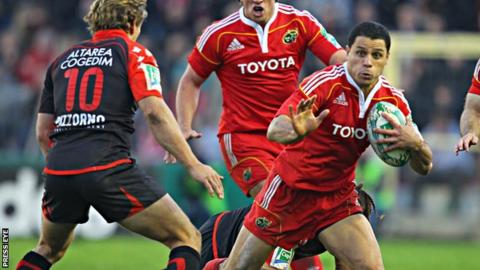 New Zealander Doug Howlett has been named as the new Munster captain for the coming season.
The 33-year-old takes over from Paul O'Connell and becomes only the second overseas player to captain the squad.
O'Connell says the time is right for Munster to have a new leader as he has been captain for the last six years.
"I just felt it was time to step back and let someone else assume the role," he said. "The timing was right with the [change of] coaching structure."
Howlett has captained the match day side on a number of occasions and will lead the team in the friendly against London Irish at Musgrave Park on Friday (7pm).
The former All Black has played has played 94 competitive matches for Munster since making his debut against Clermont Auvergne in January 2008 and is the squad's leading try scorer (32).
He takes over from O'Connell who has been squad captain since 2006/2007.
Howlett described his elevation to the captaincy as one of the highlights of his career.
"I know I've got big boots to fill following Paul, Axel (Anthony Foley), Mick Galwey and Jim Williams.
"I'm also aware of the number of leaders in this squad, people well capable of doing this job, and that makes my appointment all the more worthy and humbling."
New Munster coach Rob Penney said the process to select a new captain had involved discussions with players as well as staff.
While acknowledging that it will be hard to replace a captain of O'Connell's stature, Penney claimed that he is confident Howlett will do "a first rate job".