Scotland centre Joe Ansbro suffers broken neck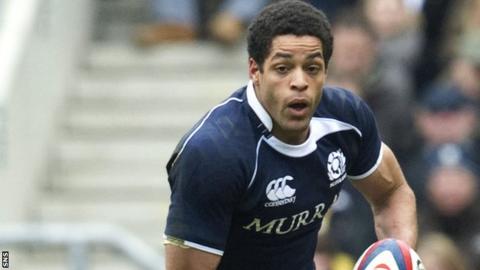 London Irish and Scotland centre Joe Ansbro has suffered a broken neck while playing in a pre-season match against Munster.
Ansbro, 26, is in hospital in Cork but is expected to be flown home later this week.
"He's got a triple fracture of the C1 vertebrae at the top of his spine," Ansbro's father Paul told BBC Scotland.
"They've put a metal halo on his head that's got to be in place 24/7 for three months."
Ansbro Snr said there was "nothing malicious" about his son's injury, adding that he dived into get the ball and came off worse.
"They did a CAT scan and an MRI scan, and they've had a neurosurgeon looking after him," Ansbro Snr said.
"He was really lucky that it was what they call a stable fracture and there's no nerve damage. That was the thing they were most concerned about; Joe's still got movement in his hands and feet."
Ansbro Snr said he was shocked at the news of his son's injury.
"Your blood runs cold when you hear about it and it's something that every parent worries about," he added.
"It's a fantastic, rough game and these things, unfortunately, cannot be ruled out."
Centre Ansbro has scored three tries in his 11 Scotland matches, having made his debut against South Africa in the 2010 Autumn Test series.
Born in Glasgow, he joined London Irish last summer after beginning his club career at Northampton.
Scotland team doctor, James Robson, said: "The management of the injury Joe has sustained typically involves a period of between six to eight weeks immobilisation, then a further four-six weeks of rehabilitation before he can look at a return to the game."