Joe Ansbro: Brian Smith hopeful of centre's recovery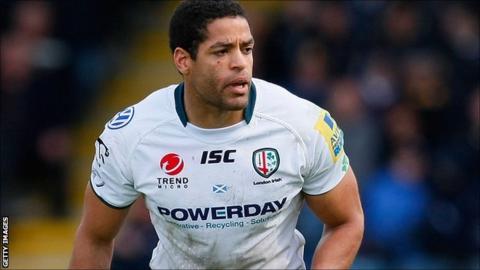 London Irish boss Brian Smith says he is hopeful Joe Ansbro will make a full recovery from his broken neck.
Centre Ansbro, 26, remains in hospital in the Republic of Ireland with a triple fracture of the C1 vertebrae at the top of his spine.
No surgery was required and the Scot should return to Berkshire this week.
"It is early days and the most important thing is he has no problems with any functionality. He's 100% clear," Smith told BBC Berkshire.
Ansbro suffered the injury while playing in a pre-season match against Munster and is currently being treated at University College Cork, where he has been placed in a metal halo neck brace to immobilise his upper spine.
Director of rugby Smith admits it is still too early to say when the Scotland international will return to action, if at all, but says Ansbro is coping well.
"Joe is in really good spirits. He's got his head around what has happened," added Smith.
"It is still too early to tell how significant the injury is as to whether he can play again this season or at all.
"A lot of people are very concerned when they hear it is a neck injury. He's got a stable neck and all the ligaments are intact."
Ansbro has scored three tries in his 11 Scotland matches, having made his debut against South Africa in the 2010 Autumn Test series.
Born in Glasgow, he joined London Irish last summer after beginning his club career at Northampton.
Smith added: "He's a very stoic bloke and he is in good spirits and is in very good care. University College Cork have been outstanding and he has one of Ireland's best neurosurgeons seeing him as a specialist.
"He'll be able to recover from it but it is far too early to say if he will play on. Worst-case scenario it will be a long time away from the game or not play at all.
"Best-case scenario Joe will make a full and speedy recovery and will be wearing a London Irish jersey in the near future."