Four Welsh Regions plan derby day at Millennium Stadium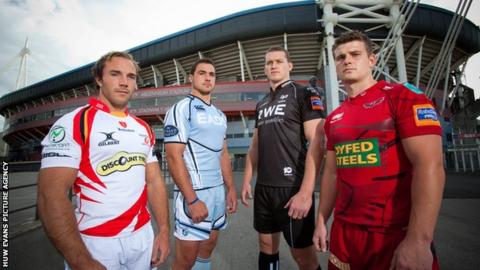 The four Welsh rugby regions will play a double-header derby day at the Millennium Stadium this season, the Welsh Rugby Union has announced.
The Scarlets, the Ospreys, Cardiff Blues and the Newport Gwent Dragons will stage a new double-header fixture on March 30.
"This unique double-header will be a historic moment for Welsh rugby," said WRU chief executive Roger Lewis.
The Dragons will play the Scarlets, while the Blues face the Ospreys.
The WRU and the regions promise the back-to-back matches will be a 'festival of rugby', with each game part of the Welsh Regions' Pro 12 campaign.
"It has taken us five years to put this fixture together, but I am confident it will have been worth the wait," said Lewis.
"The WRU will promote and underwrite this fixture for the next four years, that's how much we believe in it. Fans will see the stars of Welsh rugby and get two derby matches for the price of one very reasonably priced ticket.
"I predict this double-header will become a highlight in the Welsh rugby calendar for a long, long time to come."
The annual derby day clash will be repeated for the foreseeable future with the two east Wales regions taking on the two west Wales regions on rotation each season.
Stuart Gallacher, Chief Executive of Regional Rugby Wales, welcomed the new double-header fixture.
"We have seen this type of double header format work well across rugby and other sports where it can capture the imagination of the public by showcasing the top level of sport across a full day of excitement and competition, at a venue that can add even more to the sense of occasion," said Gallacher.
"Season ticket sales and attendances are on the up at the regions and as we look for new ways to move forward the double header at the Millennium Stadium is a great example of the hard work that is going on behind the scenes.
"We hope 30th March will bring a new, modern Welsh derby day tradition which showcases the commitment and success of the four regions in producing and supporting so many talented players in Welsh rugby."