Northampton Saints record 12th year of profit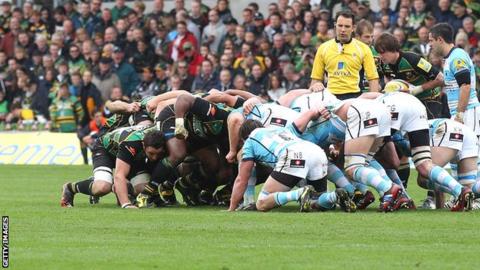 Northampton Saints have announced a 12th consecutive year of profit up to 31 May 2012.
Their net profit was £689,418 from a turnover of just over £12.8m, having made £801,314 profit in the previous year.
Saints chief executive Allan Robson told BBC Northampton: "We've got a great business model.
"We have tremendous supporters that back us so well, and a great sponsor base too."
He added: "We know our business and now, with the success we're achieving on the pitch, that also helps us to generate more income."
Saints are working towards an expansion of their Franklin's Gardens stadium in partnership with a supermarket, and having been through a public consultation, they are awaiting confirmation from the Homes and Communities Agency that they can progress to the next stage.
"If we can get a larger audience, we will make more money from it," said Robson.
"That in turn enables us to stay at the top end of our expenditure on players, squad support and the like, which improves our chances of doing well on the field."